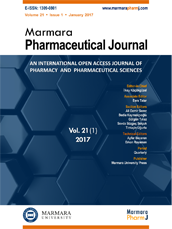 Editor-in-Chief
Hatice Kübra Elçioğlu
Vice Editors
Levent Kabasakal
Esra Tatar
Online ISSN
2630-6344
Publisher
Marmara University
Frequency
Bimonthly (Six issues / year)
Abbreviation
J.Res.Pharm.
Former Name
Marmara Pharmaceutical Journal
Marmara Pharmaceutical Journal
2016 , Vol 20 , Issue 3
Compared effects of azole antifungals on cytokine production of THP-1 cells activated by Candida albicans
1Department of Pharmaceutical Microbiology, Faculty of Pharmacy, Anadolu University, Eskisehir, Turkey
DOI :

10.12991/mpj.20162008960
In this study we compared the cytotoxic and proinflammatory/ antiinflammatory effects of azole antifungals such as clotrimazole, ketoconazole, miconazole and fluconazole on Candida albicans co-culture with THP-1 cell line. MICs of several azole antifungal agents were determined with C. albicans (NCPF 3179, Bioball™ Multishot 10E8) by the broth microdilution plate method. Cytotoxic effects of antifungal drugs were evaluated on THP-1 cell line by WST-1 test. Cytokine levels of IL-1β, IL-6, IL-8, IL-10, IL-12p70 and TNF-α in THP-1 cells stimulated by C. albicans were determined by Cytometric Bead Array (CBA). Miconazole, clotrimazole, ketoconazole, and fluconazole exhibited antifungal activity against C. albicans Multishot 10E8 with a 8, 16, 64, and 128 μg/ml MIC value. The azole antifungals showed low cytotoxicity against THP-1 cell line (IC50>512 μg/ml). The results demonstrated that IL-8 levels were increased by azole antifungal drugs and particularly, clotrimazole significantly induced not only IL-8 but also TNF-α.
Keywords :

Candida albicans, cytokine, inflammatory, THP-1 cell