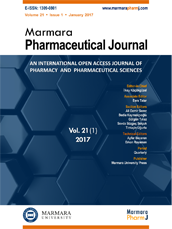 Editor-in-Chief
Hatice Kübra Elçioğlu
Vice Editors
Levent Kabasakal
Esra Tatar
Online ISSN
2630-6344
Publisher
Marmara University
Frequency
Bimonthly (Six issues / year)
Abbreviation
J.Res.Pharm.
Former Name
Marmara Pharmaceutical Journal
Marmara Pharmaceutical Journal
2016 , Vol 20 , Issue 2
A comparison study of anti food allergy of plane tree leaves extract with the chemical drug therapy in affected dogs
1Department of Small Animal Internal Medicine, Faculty of Veterinary Medicine, Shahrekord Branch, Islamic Azad University, Shahrekord, Iran
2Faculty of Veterinary Medicine, Shahrekord Branch, Islamic Azad University, Shahrekord, Iran
3Cellular and Molecular Research Center, Sabzevar University of Medical Sciences, Sabzevar, Iran
DOI :

10.12991/mpj.20162085639
Food allergy includes an overreaction of the immune system to certain foods or substances that trigger the immune system become confused. The purpose of this study was to evaluate the effect of oral administration of plantain leaf extract on immunity against food allergies in dogs. This study performed on 12 dogs and the dogs were divided into 3 groups. In 3 groups, 2 times a day for 5 days 10 grams of turmeric tablet was administered to food allergies occur in all categories. To first group twice daily, for 5 days, in each time 100cc oral plantain extract administered. In second group, prednisolone acetate used instead of plantain extract for 5 days (according to the dose of 2 mg/kg every 24 hours). And in third group (control) no medication used. Blood samples took for hematology and immunology experiments at days 0, 5 and 10 and the amount of blood was divided into two equal parts, and for hematology tests and to measure IgE immune factors and percentage and number of phagocytosis was sent to faculty lab. The result showed that in three groups comparison, during the recovery (post- treatment), eosinophils (Eos), immunoglobulin E (IgE) and germ amount in Leaf extract group has no significant change in appropriation to control group. The amount of these factors in comparison with the chemical drug group (Corton) had significant change (p<0.05), and other factors did not change significantly during treatment (p<0.05). Moreover, comparing two groups of Corton and sycamore, there is significantly better changes in IgE and Eos factors in the plantain leaves group. Therefore, mentioned factors indicate a favorable effect of plantain leaf extract in removing the symptoms of food allergy in dogs.
Keywords :

Corticosteroids, Dog, Food allergy, Immune system, Plantain leaf extract