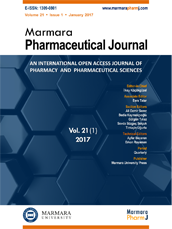 Editor-in-Chief
Hatice Kübra Elçioğlu
Vice Editors
Levent Kabasakal
Esra Tatar
Online ISSN
2630-6344
Publisher
Marmara University
Frequency
Bimonthly (Six issues / year)
Abbreviation
J.Res.Pharm.
Former Name
Marmara Pharmaceutical Journal
Marmara Pharmaceutical Journal
2015 , Vol 19 , Issue 3
Blood, hair, urine and breath samples for the analysis of drugs of abuse
1Ankara Üniversitesi, Adli Bilimler Enstitüsü, Ankara, Türkiye
2Adli Bilimler Enstitüsü, Ankara Üniversitesi Tıp Fakültesi Cebeci Yerleşkesi, 06590, Dikimevi, Ankara
DOI :

10.12991/mpj.20151900817
Due to the increasing use of drugs of abuse, it is very important to detect them in biological samples by rapid and accurate analysis for clinical and forensic toxicology. There are advantages and disadvantages of biological samples used in analysis of drugs of abuse. Urine samples are generally preferred in identification of unknown drugs since they contain more drug concentrations as compared to other biological samples. However, metabolites of analyzed drugs should be known and identified when urine samples are examined. While blood samples that are almost homogeneous are analyzed, non-degraded drugs can be detected and also drugs can be quantified. The fact that the blood samples should be obtained by a specialist in a sterile environment makes sample collection difficult. Unlike blood and urine analysis providing short-term information of an individual" drug intake, hair analysis can provide information on drug use for a long time after the drug is eliminated from the body and, thus, can be an important and decisive evidence in the courts. Moreover, even a small amount of hair sample is enough for analysis and storage of hair samples at room temperature for a long time is very easy. Recently, the detection of drugs of abuse including amphetamines, methadone and tetrahydrocannabinol in breath samples have received attention to breath as a matrix for drug testing like alcohol analysis. When the collection of other biological samples is difficult, alternatively the collection of aerosol particles in breath using portable instruments provides on-site testing in the crime scene. In this review, the advantages and disadvantages of blood, urine, hair and breath samples which are used in analysis of drugs of abuse will be discussed in detail.
Keywords :

Drugs of abuse, blood, urine, hair, breath, toxicological analysis