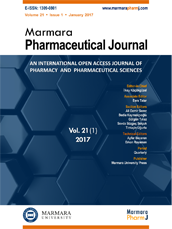 Editor-in-Chief
Hatice Kübra Elçioğlu
Vice Editors
Levent Kabasakal
Esra Tatar
Online ISSN
2630-6344
Publisher
Marmara University
Frequency
Bimonthly (Six issues / year)
Abbreviation
J.Res.Pharm.
Former Name
Marmara Pharmaceutical Journal
Marmara Pharmaceutical Journal
2015 , Vol 19 , Issue 2
Determination of heavy metals in herbal teas marketed in İstanbul
1Marmara Üniversitesi Eczacılık Fakültesi Analitik Kimya ABD Haydarpaşa İstanbul
DOI :

10.12991/mpj.20151910460
Herbal teas are being used pretty much in Turkey. Besides having a lot of beneficial speciality, teas carry heavy metals in their structure and heavy metal pollution increase with environmental pollution. In this study; sage, rosemary, St. John"swort, linden, mint, thyme, chamomile, fennel, green tea, blueberries were used and lead and cadmium metals in this teas which were bought from herbalist, have been researched with Atomic Absorption Spectrophotometer. According to the results, cadmium and lead concentrations in all dried samples have been found in the limits of Turkish Food Codex.
Keywords :

Herbal tea, heavy metal, atomic absorption, cadmium(II), lead(II)