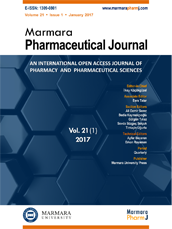 Editor-in-Chief
Hatice Kübra Elçioğlu
Vice Editors
Levent Kabasakal
Esra Tatar
Online ISSN
2630-6344
Publisher
Marmara University
Frequency
Bimonthly (Six issues / year)
Abbreviation
J.Res.Pharm.
Former Name
Marmara Pharmaceutical Journal
Marmara Pharmaceutical Journal
2015 , Vol 19 , Issue 1
Yeditepe University Faculty of Pharmacy Students Smoking Habits: Qualitative and Quantitative Approach
1Yeditepe University, Faculty of Pharmacy, Graduate Candidate, Atasehir, Istanbul-Turkey
2Yeditepe University, Faculty of Pharmacy, Pharmacy Management and Social Pharmacy Department, Atasehir, Istanbul-Turkey
3Yeditepe University, Faculty of Medicine, Biostatistics Department, Ataşehir, Istanbul-Turkey
DOI :

10.12991/mpj.2015198608
Aim: The aim of this study is to determine the statuses, cause and effects of smoking among Yeditepe University Faculty of Pharmacy students.

Method: In this research, survey and focus group methods are used for data collection. Mixed (qualitative and quantitative) method is used. Analysis and interpratations were made through both methods. Survey questions are prepared by researchers and supported with literature. The reasons for starting smoking, smoking statuses, attitudes and behaviors or the reasons for not smoking are asked to participants.

Results: A total of 332 students, 197 (59.33%) participated in the study. 15 students participated to focus group and 197 survey were conducted to students. According to the findings of the focus group interview; coping with responsibilities, to feel happy, evaluation of free time and being a student in a private college are the reasons for smoking. According to the results of the survey; stress and the environment were come into prominence.

Conclusion: Health professionals" and students" health behaviour is significant for public health. To determine the status of both the faculty and the students of health professions related to smoking habits is vital so as to plan and manage the future progression. This research emphasise the importance and severity of the smoking phenomenon not only for future generations but also for the academicians, the families and so on.
Keywords :

Pharmacy Students, Smoking Habits, Social Pharmacy