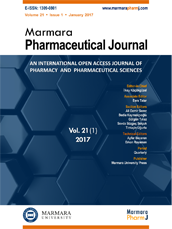 Editor-in-Chief
Hatice Kübra Elçioğlu
Vice Editors
Levent Kabasakal
Esra Tatar
Online ISSN
2630-6344
Publisher
Marmara University
Frequency
Bimonthly (Six issues / year)
Abbreviation
J.Res.Pharm.
Former Name
Marmara Pharmaceutical Journal
Marmara Pharmaceutical Journal
2012 , Vol 16 , Issue 2
Protective effects of Nigella sativa against hypertension-induced oxidative stress and cardiovascular dysfunction in rats
1Marmara University School of Pharmacy, Department of Pharmacology, Istanbul, Türkiye
2Gülhane Military Medical Academy, Cardiology, Istanbul, Türkiyez
3Marmara University, Vocational School of Health Related Professions, Istanbul, Türkiye
4Marmara University, School of Medicine, Department of Physiology, Istanbul, Türkiye
DOI :

10.12991/201216412
We investigated the protective effect of Nigella sativa against oxidative injury in the heart and kidney tissues of rats with renovascular hypertension (RVH). RVH model was induced by placing a renal artery clip (2-kidney-1-clip, 2K1C) in Wistar albino rats (n= 8), while sham rats (n= 8) had no clip placement. Starting on the 3rd week after the operation, rats received Nigella sativa (0.2 ml/kg/day, intraperitoneally) or vehicle for the following 6 weeks. Blood pressures (BP) were recorded at the beginning of the study and at the end of the 3rd and 9th weeks. Cardiac functions were assessed using transthoracic echocardiography before the rats were decapitated. Plasma samples were obtained to assay asymmetric dimethylarginine (ADMA), nitric oxide (NO), creatine kinase (CK) and lactate dehydrogenase (LDH) levels. Production of reactive oxidants was monitored by chemiluminescence (CL) assay in the cardiac and renal tissues. Moreover oxidative injury was examined through malondialdehyde (MDA) and glutathione (GSH) levels and Na+,K+-ATPase activity in these tissues. 2K1C caused increased BP and left ventricular (LV) dysfunction, while plasma ADMA, CK, and LDH levels were increased (p<0.05-0.001). Moreover, hypertension caused significant decreases in plasma NO levels, as well as in tissue Na+,K+-ATPase activities and GSH contents, while MDA levels in both tissues were increased (p<0.05-0.001). On the other hand, Nigella sativa treatment significantly reduced BP, attenuated oxidative injury and improved LV function. Nigella sativa protected against hypertension-induced tissue damage and improved cardiovascular function via its antioxidant and antihypertensive actions, suggesting a therapeutic potential of Nigella sativa in renovascular hypertension.
Keywords :

Antioxidant activity; hypertension; oxidative stress, Nigella sativa