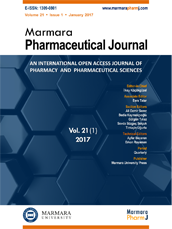 Editor-in-Chief
Hatice Kübra Elçioğlu
Vice Editors
Levent Kabasakal
Esra Tatar
Online ISSN
2630-6344
Publisher
Marmara University
Frequency
Bimonthly (Six issues / year)
Abbreviation
J.Res.Pharm.
Former Name
Marmara Pharmaceutical Journal
Marmara Pharmaceutical Journal
2011 , Vol 15 , Issue 2
The effect of centrally and peripherally administered oxytocin on increased anxiety and pain perception in rats with burn injury
1Marmara Üniversitesi, Tıp Fakültesi, Fizyoloji ABD., İstanbul, Türkiye
2Marmara Üniversitesi, Tıp Fakültesi, Histoloji ve Embriyoloji ABD, İstanbul, Türkiye
3Marmara Üniversitesi, Tıp Fakültesi , İstanbul, Türkiye
DOI :

10.12991/201115436
The putative anti-nociceptive and anxiolytic effects of peripherally and centrally administered oxytocin as well as its anti-inflammatory effect on the burned skin tissue was investigated in Sprague–Dawley rats with burn injuries. Two 18-mm diameter burns were induced by an instrument on the shaved necks of the rats, while intraperitoneal saline or oxytocin (ip 20 mg / kg / day; icv. 200 ng / rat / day) treatments were started four days before the burn injury and continued for the following 7 days. Holeboard tests were performed for the evaluation of anxiety and tailflick tests were performed to measure pain threshold on the 1st and 7th days of the burn. All rats were decapitated on the seventh day of burn, skin samples were taken for microscopic evaluation. Exogenous oxytocin alleviated inflammatory response in the injured skin tissue and reduced the anxiety that was increased on the seventh day of burn injury. Pain thresholds were not changed by the local burns, in the intraperitoneally treated groups. However, tail flick latencies, which were increased due to icv cannulation, were decreased by oxytocin treatment. Thus, the results revealed that oxytocin prevented hipoalgesia induced by icv cannula placement.
Keywords :

oxytocin, pain threshold, anxiety, inflammation