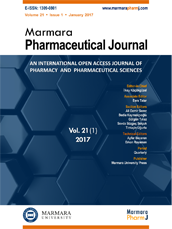 Editor-in-Chief
Hatice Kübra Elçioğlu
Vice Editors
Levent Kabasakal
Esra Tatar
Online ISSN
2630-6344
Publisher
Marmara University
Frequency
Bimonthly (Six issues / year)
Abbreviation
J.Res.Pharm.
Former Name
Marmara Pharmaceutical Journal
Marmara Pharmaceutical Journal
2011 , Vol 15 , Issue 2
Exploration of preliminary phytochemical studies of roots of ficus racemosa
1Vidyabharti Trust College of Pharmacy, Pharmacology, Bharuch, India
2Azamgarh College of Pharmacy, Pharma Chemistry, Azamgarh, India
3Vidyabharti Trust College of Pharmacy, Pharmacognosy, Umrakh, India
DOI :

10.12991/201115435
Micromorphological characters for Ficus racemosa are not reported. It is used in Ayurveda for the treatment of diarrhea, dysentery and piles, rheumatism, skin disorders like sores, teeth disorders, to boost immune system, as a hypoglycemic. Literature reports the number of uses like anthelmentic, astringent, antidiabetic and anti-inflammatory activity of this plant. The main constituents in the plant are carbohydrates, glycosides, tannins, steroids, gums, mucilage, lupeol, ceryl behenate, lupeol acetate, α-amyrin acetate, leucoanthocyanidin, and leucoanthocyanin. It is characterized by the presence of thick walled cork, several layered regularly arranged. Epidermis is thin walled and single layered, cortex and hypodermis is distinct, fibres and vessels are lignified, medullary rays are thick walled and lignified. Centre is occupied by the pith which is thin walled and has parenchymatous cells. Phytochemical investigation of root shows, total ash (7.0 % w/w), acid insoluble ash (3.0 % w/w), and water soluble ash (4.0 % w/w). Loss on drying is 1.584 % w/w. Alcohol soluble extractive value (3.2% w/w), water soluble extractive value (10.4 % w/w), chloroform soluble extractive value (1.06 % w/w) and ether soluble extractive value (4.8% w/w). Alcoholic and aqueous extracts obtained from the plant are 10.6% w/w and 9.2% w/w. In alcoholic extract and aqueous extract, tannins and saponins are present in in major amount respectively. Other constituents include carbohydrate, glycosides, phenolic compounds, gums and mucilage were present.
Keywords :

Ficus racemosa, peepal, phytochemical investigation