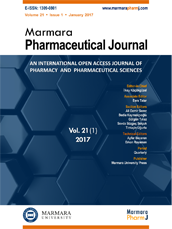 Editor-in-Chief
Hatice Kübra Elçioğlu
Vice Editors
Levent Kabasakal
Esra Tatar
Online ISSN
2630-6344
Publisher
Marmara University
Frequency
Bimonthly (Six issues / year)
Abbreviation
J.Res.Pharm.
Former Name
Marmara Pharmaceutical Journal
Marmara Pharmaceutical Journal
2010 , Vol 14 , Issue 2
Oxytocin and hypothalamo-pituitaryadrenal axis
Marmara University School of Medicine, Department of Physiology, İstanbul, Türkiye
DOI :

10.12991/201014450
Upon exposure to different types of stressors, neuroendocrine and behavioral responses that include the activation of the hypothalamus-pituitary-adrenal (HPA) axis are given to allow the individuals to cope with stress conditions. It was proven that oxytocin, a nonapeptide released from the posterior pituitary, has behavioral and stress-attenuating effects by dampening HPA activity. On the other hand, the neuropeptide was also shown to exert anti-inflammatory effects through the modulation of immune and inflammatory processes in several experimental models of tissue injury. The findings of recent studies suggest that the anti-inflammatory effect of oxytocin depends on its role on HPA axis activity and subsequent release of cortisol. Thus, oxytocin seems to restrain the activity within the HPAaxis, which becomes overactive during many inflammatory processes.
Keywords :

stress, oxidative stress, HPA axis, oxytocin