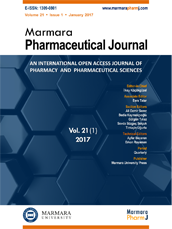 Editor-in-Chief
Hatice Kübra Elçioğlu
Vice Editors
Levent Kabasakal
Esra Tatar
Online ISSN
2630-6344
Publisher
Marmara University
Frequency
Bimonthly (Six issues / year)
Abbreviation
J.Res.Pharm.
Former Name
Marmara Pharmaceutical Journal
Marmara Pharmaceutical Journal
1996 , Vol 12 , Issue 2
Urinary citrate excretion in patients with urolithiasis
Urinary citrate excretion of of 31 healthy people and 67 patients with urolithiasis by colorimetric citrate lyase assay.

A statistically significant difference was detected between the healthy male (325± 75.9 mg/g Cr ) and female (453± 132 mg/g Cr) (p<0.05) and it was seen that mean urinary citrate excretion of patients (172.61± 89.27 mg/g Cr) was significantly lower than that of healthy people (391± 105.9 mg/g Cr) (p<0.001).

There was not a significant difference between the urinary citrate excretions of primer (180.07±90.5 mg/g Cr) and recurrent (172.2± 88.18 mg/g Cr) stone formers.

Therefore the decreased citrate excretion is an important factor of stone formation.
Keywords :

Citrate, Urolithiasis, Stones