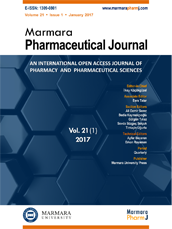 Editor-in-Chief
Hatice Kübra Elçioğlu
Vice Editors
Levent Kabasakal
Esra Tatar
Online ISSN
2630-6344
Publisher
Marmara University
Frequency
Bimonthly (Six issues / year)
Abbreviation
J.Res.Pharm.
Former Name
Marmara Pharmaceutical Journal
Journal of Research in Pharmacy
2023 , Vol 27 , Issue 5
Production and characterization of newly developed alcohol-free topical liposome-gel transdermal drug delivery systems containing estradiol (E2)/ estriol (E3) for post-menopausal women
1Department of Pharmaceutical Technology, Hamidiye Faculty of Pharmacy, University of Health Sciences, Istanbul, Türkiye
2SFA R&D Private Health Services, Teknopark Blv, No:1 3A Z01, Teknopark Istanbul, Pendik, Istanbul, Türkiye
3Dr. Aytekin Obstetrics & Gynecology- Anti Aging Clinic, Abdi İpekçi Cd., Nişantaşı-Şişli, İstanbul, Türkiye
DOI :

10.29228/jrp.499
The aim of the research was to develop alcohol-free and relatively safe liposome-gel formulations containing Estradiol (E2)/Estriol (E3) combinations for menopausal women. Herewith, we purposed to solve problems some of the transdermal products containing ethanol by preparing liposome-gel formulations. The purpose of this research was the develop of liposome-gel formulations including Estradiol (E2) /Estriol (E3) hormones. Mean particle size, zeta potential, FT-IR spectrum, rheological behaviour studies were evaluated in transdermal non-invasive formulation. The optimum formulation (LH5) was concluded to be the negatively charged liposomes, which exhibited high physical characteristics, and relatively optimum particle size for transdermal penetration as 153.3 nm ± 1.1. Mean particle size distribution of empty liposome dispersion was smaller than E2/E3 loaded liposomes (LH6) because of encapsulation of them. So, the best E2/E3 loaded formulation (LH6) was selected according to the mean particle size distribution analysis, PDI values (< 0.5 PDI value) PDI value was found as 0.371 ± 0.01 for LH6. Moreover, since the zeta potential was found to be -54.9 mV± 0.25, it is predicted to be more stable than other E2/E3 loaded liposomes according to DLVO theory. When U21 and U30 used as gelling agent were compared, it was observed that U21 showed a more stable rheological behavior with approximately 25500 cP at skin pH. For this reason, U21 was preferred as a gelling agent for liposome dispersions in the second step. Considering the liposome-gel formulations, the LHG6 formulation, which is not excessively viscous in skin application compared to the other three formulations in terms of ease of transdermal application, was found to have a value of 34500 cP and was selected as the optimum liposome-gel formulation. Formulation and characterization studies supported that liposome gel delivery system is suitable for topical applications. All results supported that liposome-gel delivery system is more appropriate for transdermal applications. Since the liposome-gel transdermal drug delivery system is suitable and safer than oral administration in all characterization studies, efficacy studies of E2/E3 loaded liposome-gel formulations will soon be possible with invivo studies in human volunteers.
Keywords :

Liposome; transdermal; estradiol; estradiol; menopause