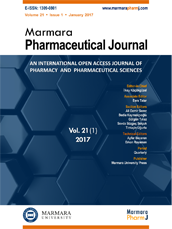 Editor-in-Chief
Hatice Kübra Elçioğlu
Vice Editors
Levent Kabasakal
Esra Tatar
Online ISSN
2630-6344
Publisher
Marmara University
Frequency
Bimonthly (Six issues / year)
Abbreviation
J.Res.Pharm.
Former Name
Marmara Pharmaceutical Journal
Journal of Research in Pharmacy
2023 , Vol 27 , Issue 5
In vitro investigation of genoprotective and antioxidant effects of santalol in CCD-1079Sk human skin fibroblast cells
1Department of Pharmaceutical Toxicology, Faculty of Pharmacy, Bezmialem Vakif University, Fatih 34093 Istanbul, Turkey
2Department of Pharmaceutical Toxicology, Faculty of Pharmacy, Istanbul University, Beyazit 34116 Istanbul, Turkey
3Institute of Graduate Studies in Health Sciences, Istanbul University, Beyazit 34116 Istanbul, Turkey
DOI :

10.29228/jrp.493
Santalum album (S. album) is a plant in the family of Santalacea that has been used in Indian traditional medicine for many years due to its pharmacological properties such as antiseptic, antipyretic, antidiabetic, diuretic, expectorant, stimulant, antibacterial and antifungal. In recent studies, apoptotic, cytotoxic, antiviral, anti-Helicobacter pylori, hepatoprotective activity of S. album has been found. The main molecule in S. album is santalol. Considering its wide variety of use in the traditional medicine and cosmetic industry, it has been considered important to clarify its genoprotective and antioxidant properties. Starting from this point of view, the aim of our study is to examine the antioxidant and genoprotective effects of santalol against H2O2 induced damage in healthy human skin fibroblast cell line CCD-1079Sk.

The cytotoxicity of santalol was investigated with the measuerement of intracellular ATP content and MTT cytotoxicity test. According to the results of the cytotoxicity tests, the dose of santalol that caused an increasement in cell viability was chosen. The antioxidant effect of santalol was investigated by measuring protein carbonyl levels. Comet Assay was performed to determine the genoprotective properties of santalol.

The results showed that 50 μM santalol treatment after 50 μM H2O2 exposure reduced the protein carbonyl level and DNA damage. This revealed the potential antioxidant and genoprotective properties of santalol. Considering the results obtained from these in vitro studies, it has been seen that santalol is worth continuing to study further in terms of protection from oxidative stress and genotoxicity.
Keywords :

santalol; santalum album; sandalwood; antioxidant; genotoxicity