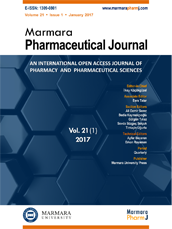 Editor-in-Chief
Hatice Kübra Elçioğlu
Vice Editors
Levent Kabasakal
Esra Tatar
Online ISSN
2630-6344
Publisher
Marmara University
Frequency
Bimonthly (Six issues / year)
Abbreviation
J.Res.Pharm.
Former Name
Marmara Pharmaceutical Journal
Journal of Research in Pharmacy
2022 , Vol 26 , Issue 7
Self-medication Practices for COVID-19 Prevention: A Study among Medical Students in Yogyakarta, Indonesia
1Faculty of Medicine, Universitas Islam Indonesia, Yogyakarta, Indonesia
2Department of Pharmacology, Faculty of Medicine, Universitas Islam Indonesia, Yogyakarta, Indonesia
DOI :

10.29228/jrp.340
The corona virus disease 2019 (COVID-19) pandemic has increased the interest in self-care strategies, including self-medication. Medical students, as future health practitioners, learn more about medications than other students. This study aimed to describe self-medication practices for preventing COVID-19 among medical students at Universitas Islam Indonesia. This observational study used a cross-sectional design and was undertaken in November– December 2020. The study sample included 336 undergraduate medical students determined using a consecutive sampling technique based on inclusion and exclusion criteria. Data were collected using an online questionnaire about self-medication practices in the preceding 3 months. Among a total of 336 students, 137 (41%) reported using selfmedication intending to prevent COVID-19, and 126 (92%) of these 137 took preventive supplements, mainly vitamins C, D, and E, and omega-3. Seven students reported the use of zinc, mainly in combination with other vitamins. Students who practiced self-medication lived closer to people confirmed with COVID-19, washed their hands more often, and desinfected their belongings more frequently than their counterparts (p<0.05). The mean duration for consuming vitamins was 11–16 days. Forty students (29%) used herbal medicine to prevent COVID-19; ginger, turmeric, honey, black seed, cutcherry, and Curcuma were the most often consumed herbal remedies. Fourteen students (10%) reported taking over-the-counter medications to relieve symptoms related to COVID-19, including antipyretic, analgesic, antiseptic, antihistamine, decongestant, antitussive, and expectorant medications. Most respondents (82%) purchased their medications at pharmacies, and 11 (9%) obtained them from online shops. These findings show the high rate of self-medication using vitamins and herbal remedies for COVID-19 prevention among university medical students. Further studies are needed to explore students' knowledge about the risks of self-medication including the use of herbal medicines.
Keywords :

COVID-19; self-medication; medical students; vitamin; herbal medicine