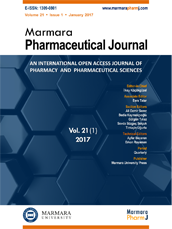 Editor-in-Chief
Hatice Kübra Elçioğlu
Vice Editors
Levent Kabasakal
Esra Tatar
Online ISSN
2630-6344
Publisher
Marmara University
Frequency
Bimonthly (Six issues / year)
Abbreviation
J.Res.Pharm.
Former Name
Marmara Pharmaceutical Journal
Journal of Research in Pharmacy
2023 , Vol 27 , Issue 1
Exploring medicines use patterns and practices among the public in the Gaza strip, Palestine: A qualitative study
1Discipline of Social and Administrative Pharmacy, School of Pharmaceutical Sciences, Universiti Sains Malaysia, Penang, Malaysia
2Directorate of Pharmacy, Ministry of Health, Gaza, Palestine
3Faculty of Public Health -Al-Quds University, Gaza, Palestine
DOI :

10.29228/jrp.329
Objectives: To examine patterns and practices of medication adherence and associated factors in the Palestinian population. Methods: qualitative methodology through focus group discussions using a semi-structured interview guide. We identified 26 adult participants through purposive sampling who reported taking medication during or three months prior to the study. Discussions were videotaped, transcribed verbatim, and translated. A manual thematic content analysis of the data was conducted to identify themes and subthemes. Results: The study revealed that participants obtained their medications primarily from public pharmacies. Some participants were unable to obtain their medications, or only partially, due to financial difficulties. The majority of participants used herbal medicines, and self-medication to treat illness was a common practice among participants, depending on their past experience with medicines. Participants adhered satisfactorily to the doctor's prescription, while adherence was low in terms of skipping scheduled doses and stopping the medication when they felt better. The expiration date of medications was not a major problem for half of the participants. Participants were poorly informed about the side effects of their medications. Information about medicines could be obtained from doctors and pharmacists, but most participants had concerns about whether this information was adequate, especially when it came from government doctors and pharmacists. CONCLUSION: Participants used medicines inappropriately. Some participants misunderstood the safety of medicines. Rational use of medicines could be improved by providing participants with the necessary drug information.
Keywords :

Medicine Irrational use; Quality use of medicines; Patterns of medicines use