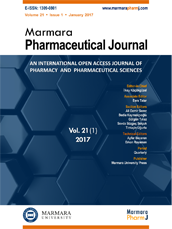 Editor-in-Chief
Hatice Kübra Elçioğlu
Vice Editors
Levent Kabasakal
Esra Tatar
Online ISSN
2630-6344
Publisher
Marmara University
Frequency
Bimonthly (Six issues / year)
Abbreviation
J.Res.Pharm.
Former Name
Marmara Pharmaceutical Journal
Journal of Research in Pharmacy
2023 , Vol 27 , Issue 1
The effectiveness of medication therapy management services in the care of hypertensive patients in a developing setting
1Department of Pharmacy Practice, Faculty of Pharmacy and Pharmaceutical Science, Kwame Nkrumah University of Science and Technology, Kumasi, Ghana
2Department of Pharmacy, Methodist Hospital, Wenchi, Ghana
DOI :

10.29228/jrp.327
Chronic diseases such as hypertension and diabetes have become a significant public health problem yet most patients on medications have their blood pressure uncontrolled. There is the need for feasible and affordable health improvement methods for primary prevention and effective management. Medication Therapy Management seeks to optimize medicine use, identify and resolve medication related issues and improves clinical outcomes. This study sought to assess the role of medication therapy management in the resolution of medication related problems and blood pressure control among patients with hypertension. This was a quasi-experimental study carried out in the hypertension clinic of Wenchi Methodist Hospital, Ghana. A total of 94 hypertensive patients were followed for seven months. Clinical outcomes measured were blood pressure and the number of drug related problems. One hundred and thirty medication related issues were identified throughout out the study period. The commonest medication related issues were associated with drug use problems (37, 28.5%). Prescribers and patients accepted 115 (88.5%) and 114 (87.7%) interventions respectively. Reductions in the mean systolic blood pressure, the number of medication related issues with respect to drug choice, drug use and dosing at the end of the study in the study group were significant. The Medication Therapy Management services offered by the pharmacist improved blood pressure control, identification, and resolution of medication related issues. These services could be adopted as part of routine services in the management of patients with chronic diseases in hospitals in developing countries.
Keywords :

Medication Therapy Management; Hypertension; Pharmacist; Pharmaceutical Care; Chronic diseases, Medication Related Issues