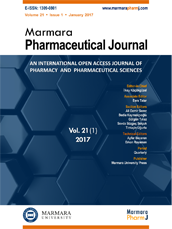 Editor-in-Chief
Hatice Kübra Elçioğlu
Vice Editors
Levent Kabasakal
Esra Tatar
Online ISSN
2630-6344
Publisher
Marmara University
Frequency
Bimonthly (Six issues / year)
Abbreviation
J.Res.Pharm.
Former Name
Marmara Pharmaceutical Journal
Journal of Research in Pharmacy
2023 , Vol 27 , Issue 1
Roflumilast exerted neuroprotective effect in myelin oligodendrocyte glycoprotein35-55 (MOG35-55)-induced experimental autoimmune encephalitis (EAE) model
1Department of Medical Biology, Faculty of Medicine, Samsun University, Samsun, Türkiye
2Department of Pharmacology, Faculty of Medicine, Samsun University, Samsun, Türkiye
3Atasam Private Hospital, Samsun, Türkiye
4Department of Histology and Embryology, Hamidiye School of Medicine, University of Health Sciences, İstanbul, Türkiye
5Department of Pharmacology, Faculty of Medicine, Cumhuriyet University, Sivas, Türkiye
DOI :

10.29228/jrp.320
In the recent decade, the effect of phosphodiesterase inhibitors (PDEi) in neurological diseases has been extensively investigated. In previous studies, the beneficial effects of PDEi on multiple sclerosis (MS) and oligodendroglial health have been indicated. However, as phosphodiesterase affects many different cellular and molecular pathways on both neurons and glial cells, knowledge about most PDEi is still missing. Roflumilast, a PDE4 inhibitor, is a potent anti-inflammatory drug currently used to treat chronic obstructive pulmonary disease. Recent studies have demonstrated the neuroprotective effects of roflumilast in neurological and immune diseases. Therefore, in this study, we aimed to investigate the effect of roflumilast on the experimental autoimmune encephalitis (EAE)-induced MS model in mice. The effects of roflumilast on the levels of immune semaphorins Sema3A and Sema4D, and proinflammatory cytokines, also motor behavior function and myelin integrity were examined. EAE model was created with myelin oligodendrocyte glycoprotein35-55 (MOG35-55) immunization. Animals were treated with roflumilast and FTY720 (Fingolimod hydrochloride) (as positive control) for 28 days and observed for motor impairments. Brain tissue levels of tumor necrosis factor-alpha (TNF-α), interleukin-1β (IL-1β), interleukin-6 (IL-6), semaphorin 3A (sema3A), semaphorin 4D (sema4D) were determined by enzyme-linked immunosorbent assay (ELISA). Myelin integrity was assessed with luxol fast blue staining. As a result, roflumilast prevented EAE-induced motor impairment and prevented the loss of myelin in the corpus callosum. Additionally, roflumilast suppressed EAE-induced increase in TNF-α, IL-1β, IL-6, and sema3A, sema4D levels in the brain tissue. Our results demonstrated that roflumilast exerts a neuroprotective effect and prevents EAE-induced myelin loss, possibly via decreasing inflammatory cytokines in the brain.
Keywords :

Roflumilast; experimental autoimmune encephalitis; multiple sclerosis; phosphodiesterase; mice