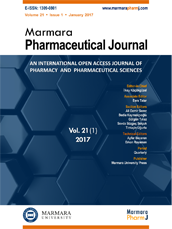 Editor-in-Chief
Hatice Kübra Elçioğlu
Vice Editors
Levent Kabasakal
Esra Tatar
Online ISSN
2630-6344
Publisher
Marmara University
Frequency
Bimonthly (Six issues / year)
Abbreviation
J.Res.Pharm.
Former Name
Marmara Pharmaceutical Journal
Journal of Research in Pharmacy
2023 , Vol 27 , Issue 1
Evaluation of escitalopram induced reproductive toxicity in male Swiss albino mice
1Department of Zoology, Faculty of Science, IIS (deemed to be University), Jaipur- 302020, Rajasthan, India
DOI :

10.29228/jrp.318
Depression and anxiety are recognized as public health problems. For the treatment of major depressive disorder, antidepressant drugs are frequently prescribed worldwide. Antidepressants are a class of drugs that reduce the symptoms of depressive disorders by blocking the reuptake of neurotransmitter and by correcting chemical imbalances of neurotransmitters in the brain. The present study was carried out to evaluate the effects caused by escitalopram oxalate (an SSRI antidepressant) on male reproductive parameters of mice. The antidepressant drug was administered to Swiss albino male mice orally at the dose level of 10 mg/kg b.w./d and 20 mg/kg b.w./d for duration of 30 and 60 days. Body weight, relative sex organ weight, sperm parameters, biochemical parameters and marker of steroidogenesis were used as parameters to evaluate the toxicity of escitalopram oxalate on treated mice. The results showed significant decrease in body weight, weight of testis and epididymis. Escitalopram oxalate treatment also brought about marked reduction in sperm count, sperm motility and viability in exposed males. Testicular protein and sialic acid content reduced significantly whereas a significant increase in the glycogen and cholesterol content of testis was observed. In addition, 3 β-HSD and 17 β-HSD activity decreased significantly. In conclusion, escitalopram oxalate exerts toxic effects on testis of mice after 60 days of treatment at dose of 20mg/kg b.w./d.
Keywords :

Escitalopram oxalate; reproductive toxicity; biochemical parameter; male Swiss albino mice