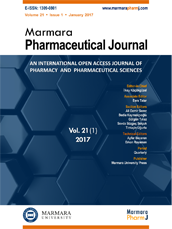 Editor-in-Chief
Hatice Kübra Elçioğlu
Vice Editors
Levent Kabasakal
Esra Tatar
Online ISSN
2630-6344
Publisher
Marmara University
Frequency
Bimonthly (Six issues / year)
Abbreviation
J.Res.Pharm.
Former Name
Marmara Pharmaceutical Journal
Journal of Research in Pharmacy
2023 , Vol 27 , Issue 1
Phytochemical Analysis and In vitro Bioactivity Study of Methanol Extract of Byttneria pilosa (Family: Malvaceae)
1Division of Pharmacy, School of Allied Health, University of Western Australia, Crawley-6009, Australia
2Pharmacy Discipline, Life Science School, Khulna University, Khulna-9208, Bangladesh
3Department of Pharmacy, East West University, Dhaka-1212, Bangladesh
DOI :

10.29228/jrp.301
Despite numerous promising traditional medicinal applications of Byttneria pilosa (Malvaceae), it has largely been unexplored. In this study, the extensive biological and chemical investigation on the aerial part of Byttenria pilosa led to the isolation of saturated aliphatic hydrocarbon having two hydroxyl groups. The antioxidant properties of methanol (MeOH) extract of Byttneria pilosa (MEBP) were determined with regard to DPPH free radical scavenging capacity (quantitative and qualitative antioxidant properties), Total Phenolic Content (TPC), Total Flavonoid Content (TFC), and Total Tannin Content (TTC). Disc diffusion technique was used to assess the antibacterial activity of methanol extract of B. pilosa. In vitro blood coagulation activity of MEBP was measured by widely used prothrombin time test (also called the pro test or PT test). Isolation of pure compounds was done through Thin Layer Chromatography (TLC) and Column Chromatography (CC) followed by some detection methods such as NMR and Mass spectroscopy. Phytochemical analysis showed that phenolic hydroxylated compounds were present in B. pilosa which were also responsible for observed bioactivities (i.e. antioxidant, antibacterial and blood coagulation activity). The possible structure of the isolated compound was illuminated by meticulous interpretation of spectroscopic data, comprising MS and NMR data. The isolated compound was 2,4,4,7-tetramethyloctane-3,5-diol (Molecular formula C12H24O2 and Molecular mass 202) or 2,2,4,6,6-pentamethylheptane-3,5-diol (Molecular formula- C12H24O2 and MW-202). The present findings show that B. pilosa possesses significant antioxidant and blood coagulation activity. It was confirmed that the isolated compound could be an aliphatic hydroxylated saturated compound having a molecular formula of C12H26O2 (Molecular mass= 202).
Keywords :

Bytteneria pilosa; Saturated aliphatic hydrocarbon; Antioxidant activity; Antibacterial activity; Blood coagulation activity