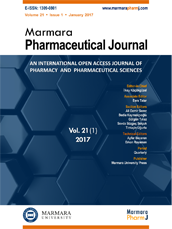 Editor-in-Chief
Hatice Kübra Elçioğlu
Vice Editors
Levent Kabasakal
Esra Tatar
Online ISSN
2630-6344
Publisher
Marmara University
Frequency
Bimonthly (Six issues / year)
Abbreviation
J.Res.Pharm.
Former Name
Marmara Pharmaceutical Journal
Journal of Research in Pharmacy
2023 , Vol 27 , Issue 1
Comparative evaluation of lyophilized voriconazole formulations marketed in European Union
1Department of Pharmacy Service, Vocational School of Health Services, Bilecik Seyh Edebali University, Bilecik, Türkiye
2Department of R&D, Centurion Pharma, Ankara, Türkiye
3Faculty of Engineering, Department of Bioengineering, Bilecik Seyh Edebali University, Bilecik, Türkiye
DOI :

10.29228/jrp.297
Voriconazole is an antifungal derived from the structure of fluconazole and is designed to increase the efficacy and spectrum of action of fluconazole. In addition to the original formulation of the lyophilized product, there are several approved formulations in Europe. The aim of this study is to compare three lyophilized formulations of voriconazole in terms of manufacturing problems, stability and cost. For this purpose, three approved formulations were prepared. Briefly, sulfobutyl ether β-cyclodextrin (SBE-β-CD) was used to prepare the reference product formulation. The second formulation was prepared using arginine (Arg) and hydroxypropyl beta-cyclodextrin (HP-β-CD) as excipients. And the last formulation was prepared using sodium chloride (NaCl) and HP-β-CD as excipients. The prepared formulations were lyophilized. After lyophilization, the structure of the cake, assay, in vitro antifungal activity and stability of the formulations were evaluated. It was found that the formulation containing HP-β-CD and Arg should be freeze-dried at a lower primary drying temperature compared to the other formulations. The assays and in vitro antifungal activities of the formulations were found to be similar. The accelerated stability results showed that the impurity increase of the finished products in the Vor-SBE-β-CD and Vor-HP-β-CD-NaCl formulations was similar to that of the reference product. The impurity increase was slower in the Vor-HP-β-CD arginine formulation than in the others. The cost of Vor-SBE-β-CD was also higher than the others. Despite the advantages of SBE-β-CD, such as providing the same formula as the original product, HP-β-CD and NaCl/Arg-containing formulations can provide the targeted chemical quality at low cost.
Keywords :

Voriconazole; HP-β-CD; SBE-β-CD; Lyophilized Formulation; Arginine; Sodium Chloride