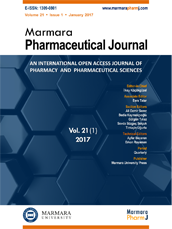 Editor-in-Chief
Hatice Kübra Elçioğlu
Vice Editors
Levent Kabasakal
Esra Tatar
Online ISSN
2630-6344
Publisher
Marmara University
Frequency
Bimonthly (Six issues / year)
Abbreviation
J.Res.Pharm.
Former Name
Marmara Pharmaceutical Journal
Journal of Research in Pharmacy
2023 , Vol 27 , Issue 1
Formulation and evaluation of acetazolamide loaded in–situ gel for the treatment of glaucoma
1Research Scholar, Biju Patnaik University of Technology, Rourkela, Odisha, India
2Institute of Pharmacy & Technology, Salipur, Odisha, India
3School of Pharmacy and Life Sciences, Faculty of Pharmacy, Centurion University of Technology and Management, Odisha, India
DOI :

10.29228/jrp.291
The present research work was proposed to develop a pH triggered in-situ gel formulation for the ocular delivery of acetazolamide to treat glaucoma. Carbopol-934, Carbopol 940, Hydroxypropyl methylcellulose (HPMC) K4M, and Sodium Alginate were chosen for the development of in-situ gel. Formulation with Carbopol 940 and sodium alginate was optimized by assessing the gelling capacity. The prepared in-situ gel formulations were thoroughly characterized for gelling time, gelation temperature, Fourier-transform infrared (FTIR) spectroscopy studies, rheological study, sterility testing, corneal drug permeation, ocular irritation test, and accelerated stability study. Ex-vivo corneal permeation study was performed using goat cornea. The result of transcorneal permeation of acetazolamide followed the Fickian diffusion process. The optimized formulations showed satisfactory gelling time (4.17-5.17 sec) and dissolution time (120 min). FTIR study confirms the compatibility between the polymers and acetazolamide. The sterility study showed a satisfactory result. After 72 h observation in the in-vivo rabbit eye irritation study, the eyes appeared normal. There were no significant changes in pH and drug content in the accelerated stability studies of the formulations.
Keywords :

Acetazolamide; gelation time; carbopol-934&940; sodium alginate; in-situ gel; release; viscosity