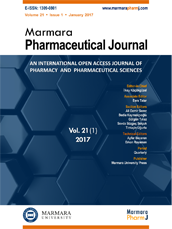 Editor-in-Chief
Hatice Kübra Elçioğlu
Vice Editors
Levent Kabasakal
Esra Tatar
Online ISSN
2630-6344
Publisher
Marmara University
Frequency
Bimonthly (Six issues / year)
Abbreviation
J.Res.Pharm.
Former Name
Marmara Pharmaceutical Journal
Journal of Research in Pharmacy
2022 , Vol 26 , Issue 6
Evaluation of lesinurad-induced cardiotoxicity in cardiomyoblastic cells
1Department of Pharmaceutical Toxicology, Faculty of Pharmacy, Istanbul University, Istanbul, Turkey
DOI :

10.29228/jrp.279
Lesinurad, a uric acid transporter-1 (URAT1) inhibitor, is a uricosuric medicine and administered in combination therapy with a xanthine oxidase inhibitör (XOI) when the targeted serum uric acid level with XOIs cannot be reached in the treatment of gout. The cardiovascular adverse effects related to the use of lesinurad have been reported by authorities, but the underlying causes have not been elucidated yet. Therefore, to investigate the cardiotoxic potential and its mechanisms, oxidative stress, apoptosis, and troponin I/T protein expressions that are important in cardiac functions were evaluated using the rat cardiomyoblast (H9c2) cell model after lesinurad treatment (0.625-0.5 M) for 24 h. The half-maximal inhibitory concentration (IC50) was calculated to be 0.84 M. Necrotic cell death was induced at 0.125-0.5 M doses and glutathione (GSH) was depleted at all studied concentrations. The ROS levels did not show significant change after lesinurad treatment, which may be a consequence of reactive oxygen species (ROS) scavenging activity of GSH. The protein expressions of troponin T and troponin I slightly decreased at the highest concentration. According to the findings, lesinurad-induced cardiotoxicity might be associated with oxidative stress and necrotic cell death. However, further detailed mechanistic studies are needed to clarify the lesinurad-induced cardiotoxic effects.
Keywords :

Lesinurad-1; URAT-1 inhibitors-2; gout-3; cardiotoxicity-4