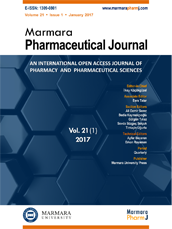 Editor-in-Chief
Hatice Kübra Elçioğlu
Vice Editors
Levent Kabasakal
Esra Tatar
Online ISSN
2630-6344
Publisher
Marmara University
Frequency
Bimonthly (Six issues / year)
Abbreviation
J.Res.Pharm.
Former Name
Marmara Pharmaceutical Journal
Journal of Research in Pharmacy
2022 , Vol 26 , Issue 6
Investigation of antioxidant and anticonvulsant activity of Hypericum triquetrifolium Turra
1Department of Medical Pharmacology, School of Medicine, Istanbul Medipol University, Istanbul, Türkiye
2Department of Pharmacology, Faculty of Pharmacy, Marmara University, Istanbul, Türkiye
3Department of Pharmacognosy, Faculty of Pharmacy, Marmara University, Istanbul, Türkiye
4Department of Pharmaceutical Botany, Faculty of Pharmacy, Istanbul University, Istanbul, Türkiye
5Department of Pharmaceutical Toxicology, School of Pharmacy, Istanbul Medipol University, Istanbul, Türkiye
DOI :

10.29228/jrp.277
Epilepsy is a state characterized by sudden, recurrent epileptic seizures that are not initiated by an identifiable event. There are various studies has been shown that Hypericum species may be used for their anticonvulsant potentials. Besides, the relationship between anticonvulsant activity and antioxidant effect has already been shown in the literature. In the current study, H. triquetrifolium was investigated for the first time for its potential antioxidant and anticonvulsant potential using in vitro and in vivo test models. H. triquetrifolium extracts were tested with DPPH assay, FRAP assay, copper (II) ion reducing antioxidant capacity assay, and acetylcholinesterase inhibitory activity assay to understand their antioxidant potential. Especially, methanolic extract of H. triquetrifolium was shown the highest antioxidant activity. Moreover, a pentylenetetrazole (PTZ, 80 mg/kg, i.p.)-induced seizure model was conducted to analyze the anticonvulsant activities of H. triquetrifolium extracts in mice. In addition, this study revealed that H. triquetrifolium decreased the ratio of severe seizures and increased the mean onsite of mortality and survival rate in a dose-dependent manner. It is thought that the anticonvulsant effect may be either related to the antioxidant potential of H. triquetrifolium or its interference in the GABAergic system.
Keywords :

Hypericum triquetrifolium Turra; antioxidant activity; anticonvulsant activity; epilepsy; Hypericaceae