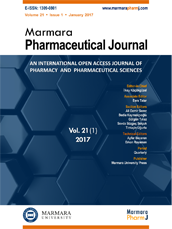 Editor-in-Chief
Hatice Kübra Elçioğlu
Vice Editors
Levent Kabasakal
Esra Tatar
Online ISSN
2630-6344
Publisher
Marmara University
Frequency
Bimonthly (Six issues / year)
Abbreviation
J.Res.Pharm.
Former Name
Marmara Pharmaceutical Journal
Journal of Research in Pharmacy
2022 , Vol 26 , Issue 6
The hepatoprotective effect of Marchantia paleacea bertol. extract against acetaminophen-induced liver damage in rat: biochemical and histological evidence
1Department of Pharmacy, Poltekkes Kemenkes Bandung, Jl. Prof. Eyckman No. 24, Pasteur, Kec. Sukajadi, Kota Bandung, Jawa Barat, Indonesia, 40161
2Department of Pharmacy (Pharmaceutical Biology), Faculty of Mathematics and Science, Universitas Garut, Jl. Jati No. 42 B, Tarogong, Kab. Garut, Jawa Barat, Indonesia
3Medical Laboratory Technology Study Program, Stikes Jenderal Achmad Yani, Jl. Terusan Jend. Sudirman, Baros, Kec. Cimahi Tengah, Kota Cimahi, Jawa Barat, Indonesia
4Research Center for Plant Conservation and Botanical Gardens – Cibodas Botanical Garden, Indonesian Institute of Sciences (LIPI), Indonesia, 43253
DOI :

10.29228/jrp.275
Hepatoprotectors are compounds or substances that have efficacy to protect liver cells against toxic substances result in liver damage. Liver damage caused by various factors, such as: viruses, bacteria, drugs that directly damage liver cells (such as acetaminophen, etc.), hypersensitivity reactions, hepatotoxic chemicals, toxins in food and pollution. Therefore, the development of the drug is still being tested to obtain more satisfactory results in terms of efficacy and the minimal side effects it causes. Until now, there has been no research on the hepatoprotector effect of the liverwort herbs ethanol extract of Marchantia paleacea Bertol. in a hepatotoxic-induced test animal model, especially with acetaminophen in rats. This study aimed to examine the potential hepatoprotector of the herbal liverworts extract of Marchantia paleacea Bertol. compare to Curcuma FCT®. The hepatoprotector effect was determined by examining the biochemical levels of SGPT and SGOT, the percentage of liver index (% w/w) and histopathological feature of the liver. The increase in SGPT and SGOT levels in the liver tissue induced by acetaminophen to prove the toxicity of the liver tissue caused by acetaminophen. Marchantia paleacea Bertol ethanol extract with doses of 26 and 104 mg/kg bw in the measurement of serum levels of SGPT, SGOT, and liver index (% w/w) has shown decreased serum levels of SGPT, SGOT, and liver index (% w/w). In addition, the histological examination for scoring liver cell repair using the Manja Roenigk Histopathology Scoring Model method has shown a repair score for acetaminophen-induced liver tissue damage at both doses of the test extract (26 and 104 mg/kg bw). These findings suggest that 26 and 104 mg/kg bw have a potential protective effect on liver function against hepatotoxicity in rat livers. Thus, Marchantia paleacea Bertol. liverwort herb has great potential as a nutraceutical product, supplement, or traditional medicine that has hepatoprotective therapeutic efficacy.
Keywords :

Marchantia paleacea Bertol.; acetaminophen-induced; hepatoprotective; SGPT and SGOT; liver histology