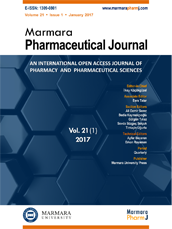 Editor-in-Chief
Hatice Kübra Elçioğlu
Vice Editors
Levent Kabasakal
Esra Tatar
Online ISSN
2630-6344
Publisher
Marmara University
Frequency
Bimonthly (Six issues / year)
Abbreviation
J.Res.Pharm.
Former Name
Marmara Pharmaceutical Journal
Journal of Research in Pharmacy
2022 , Vol 26 , Issue 6
Aqueous-ethanolic extracts of Curcuma longa and Withania somnifera improve memory in the dementia model
1Amity Institute of Phytomedicine and Phytochemistry, Amity University, Noida 201313, India
2Scientific & Medical Affairs, Dr. Willmar Schwabe India Pvt. Ltd, Noida 201304, India
3Department of Pharmaceutical Sciences, Gurukula Kangri (Deemed to be University), Haridwar 249404, India
4Clinical Research, Dr. Willmar Schwabe Pharmaceuticals, Willmar-Schwabe-Strasse 4, Karlsruhe 76227, Germany
DOI :

10.29228/jrp.274
Dementia involves impairment in cognitive and behavioral abilities, which leads to disability and dependency, particularly among older people. Alzheimer's disease is the most common form of dementia. Currently, available synthetic drugs against dementia have several side effects and only give symptomatic relief without curing or reversing the pathophysiology of the disease. So, herbal drugs can be good alternatives with a good safety profile. Curcuma longa (CL) and Withania somnifera (WS) have been reported for neurological activities with individual extracts and select phytoconstituents. However, their aqueous-ethanolic extracts have not been studied in dementia models. This study aimed to find the effect of aqueous-ethanol extracts of CL rhizomes and WS roots in scopolamine-induced dementia in Swiss albino mice using behavior models; Elevated Plus Maze (EPM), Morris Water Maze (MWM) and Spontaneous Alternation (Y Maze). Further, their antioxidant activity was also studied. The findings of the study revealed that both extracts effectively antagonized the detrimental effects of Scopolamine. Comparatively, WS in the dose of 40 mg/kg exhibited more efficacy in EPM and MWM models, while CL at 40 mg/kg was found to be more effective in the Y Maze. Furthermore, both extracts showed higher effects at the dose of 40 mg/kg than 20 mg/kg. They have also exhibited antioxidant activity. It is concluded that the aqueous-ethanolic extracts of CL and WS possess anti-dementia and antioxidant potential like other extracts earlier reported. Their pathophysiology, synergistic effects in different combinations, and influence on the neurotransmitters need further exploration.
Keywords :

Dementia; Alzheimer's disease; Curcuma longa; Curcumin; Withania somnifera; Withanolides