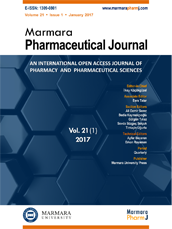 Editor-in-Chief
Hatice Kübra Elçioğlu
Vice Editors
Levent Kabasakal
Esra Tatar
Online ISSN
2630-6344
Publisher
Marmara University
Frequency
Bimonthly (Six issues / year)
Abbreviation
J.Res.Pharm.
Former Name
Marmara Pharmaceutical Journal
Journal of Research in Pharmacy
2022 , Vol 26 , Issue 6
Recent approaches in topical acne treatment and drug delivery
1Department of Pharmaceutical Technology, Hamidiye Faculty of Pharmacy, University of Health Sciences, Istanbul, Türkiye
2Department of Pharmaceutical Technology, Faculty of Pharmacy, Sivas Cumhuriyet University, Sivas, Türkiye
3Department of Pharmaceutical Technology, Faculty of Pharmacy, Ege University, Izmir, Türkiye
DOI :

10.29228/jrp.248
Acne vulgaris is a widespread chronic disease of the hair follicles associated with the sebaceous glands. Disease factors include occlusion of follicles, hyperkeratinizations, keratin plug formation, enlargement of the sebum gland and increased sebum production. The selection of drugs to be applied in acne treatment is made according to criteria such as the degree of acne lesions, the preferred route of administration, and the patient's medical condition. With its large surface area, the skin is a high potential route for drug release, so topical agents have a wide range of uses. However, these agents often have disadvantages such as dry skin, peeling and skin irritation or bacterial resistance. In order to minimize these disadvantages, new drug delivery systems have been developed. Drug delivery systems are biocompatible systems that enable the transport of molecules for pharmaceutical applications. These systems are usually designed at nanometric and micrometric levels for purposes such as increasing site specificity and penetration. Topical drug delivery systems are preferred due to eliminating the need for systemic drug treatments, minimizing the total dose required to reach the targeted layers in the skin, and reducing side effects. Nanotechnological approaches such as particulate, vesicular, colloidal drug delivery systems and various other systems have an important place in the treatment of acne. These approaches offer significant opportunities for designing novel, low-dose and effective treatment systems to control acne. In this review, recent approaches to topical acne treatments and drug delivery have been overviewed.
Keywords :

Acne vulgaris, topical treatment, nanocarrier systems, drug delivery