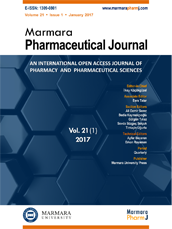 Editor-in-Chief
Hatice Kübra Elçioğlu
Vice Editors
Levent Kabasakal
Esra Tatar
Online ISSN
2630-6344
Publisher
Marmara University
Frequency
Bimonthly (Six issues / year)
Abbreviation
J.Res.Pharm.
Former Name
Marmara Pharmaceutical Journal
Journal of Research in Pharmacy
2022 , Vol 26 , Issue 5
Protective effects of olive cake against heart and kidney injury in dexamethasone-induced hypertensive rats
1Laboratory of Clinical and Metabolic Nutrition, Department of Biology, Faculty of Nature and Life Sciences, Oran 1 Ahmed Ben Bella University. Oran, Algeria
DOI :

10.29228/jrp.225
In this study, we investigated the protective effects of olive cake (OC) from heart and kidney damage in dexamethasoneinduced hypertensive (HT) rats. HT rats were divided into two groups fed standard diet supplemented (HT-OC) or not (HT) with OC at 7.5% for 28 days. A control group (C) was submitted to standard diet for the same experimental period. The results showed that serum levels of lactate dehydrogenase (LDH), creatine kinase (CK), aspartate aminotransferase (AST), urea creatinine and uric acid were significantly increased in the HT group compared with the C group. The HT group was associated with increased levels of thiobarbituric acid reactive substances, lipid hydroperoxides and protein carbonyl, while reducing glutathione concentration and glutathione peroxidase, superoxide dismutase and catalase activities in heart and kidney. OC treatment reduced systolic blood pressure, creatinine, urea, uric acid, LDH, CK and AST and increased nitric oxide in serum than the HT group. OC reduced oxidative stress biomarkers and increased antioxidants enzyme activities in heart and kidney than the HT group. In the HT group compared with C, histopathological examination of renal tissues revealed glomerular necrosis, renal tubular distortion, and increased Bowman's space, and that of the heart showed cardiac cells nuclear peripheralization, pyknosis, and congestion of myocardial blood vessels. However, OC treatment attenuated cardiac and renal damage compared with the HT group. Conclusions, in dexamethasone-induced hypertensive rats, OC protects against kidney and heart damage by reducing blood pressure, oxidative stress and improving antioxidant defense. These results could be referred to their flavonoid and polyphenol content.
Keywords :

Hypertension rat; dexamethasone; olive cake; antioxidant enzymes; oxidative stress