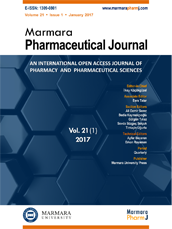 Editor-in-Chief
Hatice Kübra Elçioğlu
Vice Editors
Levent Kabasakal
Esra Tatar
Online ISSN
2630-6344
Publisher
Marmara University
Frequency
Bimonthly (Six issues / year)
Abbreviation
J.Res.Pharm.
Former Name
Marmara Pharmaceutical Journal
Marmara Pharmaceutical Journal
1991 , Vol 7 , Issue 1
Spectrophotometric determination of baclofen in tablets with 1,2-naphtoquinone-4-sulphonic acid sodium salt
A spectrophotometric method was developed for the determination of baclofen alone and in tablets. The method was based on condensation reaction baclofen with 1,2-naphthoquinone-4 acid sodium salt (NQS), at pH 7.5 and 70°C within 20 min., when the molar ratio NQS to baclofen was 4. After the extraction of the derivative with dichloromethane : n-butanol (4:1), absorbance was measured at 455 nm. A linear relationship between absorbance and concentration was obtained over the range of 5-50 g. ml -1 of baclofen. The results of the analysis of baclofen tablets so obtained correlated well with those obtained by the offical method at 95% confidence level.
Keywords :