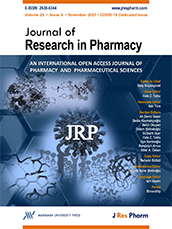 Editor-in-Chief
Hatice Kübra Elçioğlu
Vice Editors
Levent Kabasakal
Esra Tatar
Online ISSN
2630-6344
Publisher
Marmara University
Frequency
Bimonthly (Six issues / year)
Abbreviation
J.Res.Pharm.
Former Name
Marmara Pharmaceutical Journal
Journal of Research in Pharmacy
2021 , Vol 25 , Issue 6
A new frontier: Navigating hospital pharmacy practice during the COVID-19 pandemic
1Department of Clinical Pharmacy, North Florida Regional Medical Center, Gainesville, FL, USA
DOI :

10.29228/jrp.73
The novel coronavirus, severe acute respiratory syndrome coronavirus 2 (SARS-CoV-2), first manifested in Wuhan, China in December 2019 as multiple cases of pneumonia with unknown etiology. This was the herald of an infectious catastrophe that would eventually affect millions of people across the world, claim countless lives, and uproot the very foundations of modern-day healthcare practice. Hospital pharmacists, alongside with physicians, nurses, and numerous other disciplines, are an integral part of the healthcare team that responded to this pandemic. The purpose of this article is to highlight the teamwork, determination, and innovativeness demonstrated by clinical pharmacists at a 510-bed community hospital in response to the coronavirus disease of 2019 (COVID-19). Pharmacists rose to the occasion to ensure that patients continue to receive the best therapy possible during this pandemic, and they supported other disciplines to ensure a collaborative response. Despite the unprecedented challenges posed to hospital pharmacy practice in the setting of COVID-19, our pharmacy team's response has resoundingly proven the resiliency of the human spirit, and shows that nothing is insurmountable in the face of collaboration, creativity, and an overwhelming desire to care for our community.
Keywords :

COVID-19 pandemic; hospital pharmacy; hospital pharmacist; collaboration; challenges