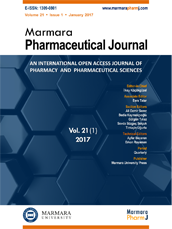 Editor-in-Chief
Hatice Kübra Elçioğlu
Vice Editors
Levent Kabasakal
Esra Tatar
Online ISSN
2630-6344
Publisher
Marmara University
Frequency
Bimonthly (Six issues / year)
Abbreviation
J.Res.Pharm.
Former Name
Marmara Pharmaceutical Journal
Journal of Research in Pharmacy
2020 , Vol 24 , Issue 2
The effects of Urtica dioica L. ethanolic extract against urinary calculi in rats
1Department of Pharmacology, Faculty of Pharmacy, Marmara University, Haydarpasa 34668 Istanbul, Turkey
2Department of Pharmacognosy, Faculty of Pharmacy, Marmara University, Istanbul, Turkey
3Department of Histology & Embryology, Faculty of Medicine, Marmara University, Istanbul, Turkey
4Department of Biochemistry, Umraniye Research and Training Hospital, Istanbul, Turkey
5Department of Urology, Faculty of Medicine, Marmara University, Istanbul, Turkey
6Department of Pharmaceutical Botany, Faculty of Pharmacy, Marmara University
DOI :

10.35333/jrp.2020.137
Nephrolithiasis is common urological problem and stone formation has multiple underlying pathogenetic factors. We investigated the possible preventive and therapeutic effects of Urtica dioica ethanol extract (UD) on ethylene glycol-induced nephrolithiasis model in rats. Sprague-Dawley rats were divided into four groups (n = 10). The control group was given normal drinking water for 8 weeks and was administered vehicle by gastric gavage. Stone formation was induced by adding 0.75% ethylene glycol (EG) to their drinking water. UD (700 mg/kg) was given orally for 8 weeks to the preventive group and for last 4 weeks to the treatment group, respectively. At the end of the experiment, urine, blood samples and kidney tissues were obtained. In 24-hour urine samples, calcium and citrate levels were decreased and oxalate levels were increased in EG group whereas UD treatment groups reversed these parameters back to control levels. In addition, serum levels of creatinine and urea were increased in EG group, while UD significantly reduced these parameters. Malondialdehyde, 8-hydroxydeoxyguanosine and tumor necrosis alpha levels, and caspase-3 and N-acetyl-β-glucosaminidase activities were elevated in EG group and showed a decrease in UD treated groups. Glutathione level was decreased in EG group, whereas it was increased in UD preventive group. Histological examination showed an improvement in UD treated groups. Our results suggest that UD is effective both in prevention and treatment for kidney stones. The mechanism underlying this effect may be the antioxidant effect of UD and the effect on the concentration of stone-forming components in the urine.
Keywords :

Urtica dioica; kidney stone; calcium oxalate; urolithiasis; antioxidant