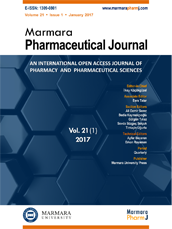 Editor-in-Chief
Hatice Kübra Elçioğlu
Vice Editors
Levent Kabasakal
Esra Tatar
Online ISSN
2630-6344
Publisher
Marmara University
Frequency
Bimonthly (Six issues / year)
Abbreviation
J.Res.Pharm.
Former Name
Marmara Pharmaceutical Journal
Journal of Research in Pharmacy
2020 , Vol 24 , Issue 1
The comparison of apoptosis-related protein expressions in neurotoxin-based in vitro Parkinson's Disease models
1Department of Biochemistry, Faculty of Pharmacy, Ege University, 35100, Bornova, İzmir, Turkey
2Department of Physiology, Faculty of Medicine, Ege University, 35100, Bornova, İzmir, Turkey
DOI :

10.35333/jrp.2020.117
Programmed cell death (apoptosis) is mainly responsible for neuronal damage in neurodegenerative diseases. Thus, inhibition of apoptosis could represent an effective strategy in the prevention of these diseases. In this study, we aimed to compare the apoptotic responses of neurotoxins that are widely used to induce neuronal damage in cell culture studies and help to decide the most suitable experimental model for drug studies that target apoptosis. Cell viability analyses were performed by MTT assay following 1-methyl-4-phenylpyridinium (MPP+), 6-hydroxydopamine (6-OHDA), rotenone and paraquat treatments at three different time points (12, 24, 48h). Pro-apoptotic (Bax, Bad, Bak), anti-apoptotic (Bcl-2, Bcl-xl) protein levels and total caspase-3 protein levels were determined by Western Blotting technique following treatments. As expected, all neurotoxins managed to trigger cell death and apoptotic pathway. On the other hand, each neurotoxin was found to enhance and/or reduce the levels of different proteins that are associated with apoptosis. Due to different responses of apoptosis related proteins to neurotoxins, it can be concluded that the determination of target proteins with a number of protein-binding assays prior to cell culture studies and then deciding an in vitro model are essential while screening newly synthesized drugs that target apoptosis.
Keywords :

Parkinson's disease; neurotoxin; apoptosis; Bax/Bcl-2 ratio