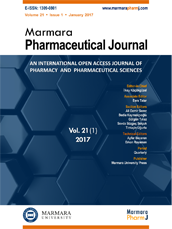 Editor-in-Chief
Hatice Kübra Elçioğlu
Vice Editors
Levent Kabasakal
Esra Tatar
Online ISSN
2630-6344
Publisher
Marmara University
Frequency
Bimonthly (Six issues / year)
Abbreviation
J.Res.Pharm.
Former Name
Marmara Pharmaceutical Journal
Journal of Research in Pharmacy
2019 , Vol 23 , Issue 2
Patient counseling, risk factors and comorbidity assessment in diabetic foot ulcer
1Department of Pharmacy Practice, PSG College of Pharmacy, Coimbatore, India 641 004
2Department of Surgery, PSG Hospitals, PSG Instiute of Medical Sciences and Research, Coimbatore, India 641004
3Department of Pharmaceutics, PSG College of Pharmacy, Coimbatore, India 641 004
DOI :

10.12991/jrp.2019.137
Diabetic foot ulcer usually develops due to lack of knowledge and awareness regarding the consequences of the disease progression and poor foot care among diabetics. The objective of the study is to enhance knowledge, attitude and clinical practice among diabetic foot ulcer patients through pharmacist counseling, and to assist physician in the selection of cost effective antibiotics. Data on the disease condition such as duration of illness, type of diabetes, category of infections, classification of foot ulcer, risk factors, comorbidities and antibiotics used were collected and analyzed. Additionally, the details of culture sensitivity report for sensitive and resistant microorganisms with respect to antibiotics were recorded. Appropriate patient education on diabetic foot ulcer helps to improve their knowledge, attitude, and practice significantly. The commonest microbial isolates identified in diabetic foot ulcer patients were Klebsiella pneumonia, Pseudomonas aeruginosa and Staphylococcus aureus. Culture sensitive drugs found were meropenem, amoxicillin with clavulanic acid, clindamycin and the resistant drugs were cefepime, levofloxacin and penicillin.
Keywords :

Diabetic foot ulcer; patient counseling; risk factors; comorbidity; culture sensitivity