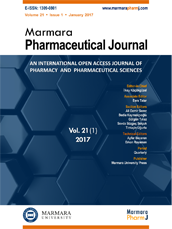 Editor-in-Chief
Hatice Kübra Elçioğlu
Vice Editors
Levent Kabasakal
Esra Tatar
Online ISSN
2630-6344
Publisher
Marmara University
Frequency
Bimonthly (Six issues / year)
Abbreviation
J.Res.Pharm.
Former Name
Marmara Pharmaceutical Journal
Journal of Research in Pharmacy
2019 , Vol 23 , Issue 1
A study on determining the opinions and attitudes of community pharmacists about non-pharmaceutical medicinal products
1Department of Pharmacy Management, Faculty of Pharmacy, Ankara University, Ankara, Turkey
DOI :

10.12991/jrp.2018.119
Social change and changing needs of today"s people bring about a service concept that includes both prescription drugs and non-prescription drugs (over the counter medicines and parapharmaceuticals) are offered to clients. Community pharmacists who are the most accessible healthcare providers begin to focus on selling (parapharmaceuticals) non-pharmaceutical medicinal products (NPMPs) that are seen more profitable and require less bureaucratic processes. Assuming that the dilemmas often experienced by community pharmacists between the "businessman" and "healthcare giver" roles could affect their attitudes and opinions about NPMPs. The study, which is designed from this point of departure, is aimed at revealing the opinions of community pharmacists about NPMPs, their knowledge NPMPs and their attitudes such as sales of these products and their policy arrangements. A face to face questionnaire was distributed to 244 community pharmacists in Ankara. According to the results, it was determined that the rate of NPMP sales in total turnover and the pharmacy settlement affect the opinions and attitudes on the subject of the community pharmacists. Most of the pharmacists' "business owner" roles have been shown to influence their attitudes towards drugs and NPMPs, whether their NPMP sales are excessive or not.
Keywords :

Community pharmacist; community pharmacy; non-drug products; ethical dilemma; opinion and attitude