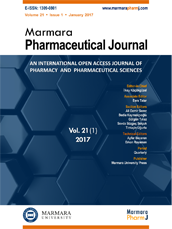 Editor-in-Chief
Hatice Kübra Elçioğlu
Vice Editors
Levent Kabasakal
Esra Tatar
Online ISSN
2630-6344
Publisher
Marmara University
Frequency
Bimonthly (Six issues / year)
Abbreviation
J.Res.Pharm.
Former Name
Marmara Pharmaceutical Journal
Marmara Pharmaceutical Journal
2016 , Vol 20 , Issue 3
Ethnomedicinal survey of plants used in the treatment of female ınfertility in Chanchaga Local Government Area in Minna, Niger State, Nigeria.
1Department of Biological Sciences, University of Abuja, PMB 117, FCT, Abuja, Nigeria
2Department of Plant Biology and Biotechnology, University of Benin, PMB 1154, Benin City, Nigeria
DOI :

10.12991/mpj.20162064109
An ethno-medicinal survey of plants used to treat female infertility in Chanchaga Local Government Area in Minna, Niger state of Nigeria was conducted for record purpose. Using a structured questionnaire, fifteen herbalists; 8 males and 7 females specialized in female infertility treatment were interviewed in September, 2015. A total of 29 taxa belonging to 26 families with their botanical names, frequency index, preparation of drugs, methods and doses were documented. Most remedies were prepared as infusions or decoctions. All species were harvested from the field when needed by locals. It is advised that careful efforts be made to conserve useful plants by inhabitants of the study area. Younger people should also be encouraged to show interest in the knowledge of traditional medicines.
Keywords :

Female infertility, Medicinal plants, Minna, Nigeria