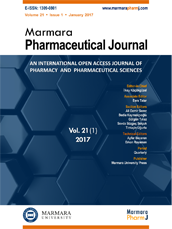 Editor-in-Chief
Hatice Kübra Elçioğlu
Vice Editors
Levent Kabasakal
Esra Tatar
Online ISSN
2630-6344
Publisher
Marmara University
Frequency
Bimonthly (Six issues / year)
Abbreviation
J.Res.Pharm.
Former Name
Marmara Pharmaceutical Journal
Marmara Pharmaceutical Journal
2016 , Vol 20 , Issue 2
Synthesis and antiviral activity evaluation of some new cyclohexylidenehydrazide derivatives of 1,3-thiazole core
1Istanbul University, Faculty of Pharmacy, Department of Pharmaceutical Chemistry, 34116 Istanbul, Turkey
DOI :

10.12991/mpj.20162019913
Six novel cyclohexylidenehydrazide derivatives carrying five membered heterocyclic ring, 1,3-thiazole were synthesized to investigate their antiviral (including anti-HIV) activity against diverse DNA and RNA viruses in CRFK, HeLa, HEL, MDCK, Vero and MT4 cell cultures. None of the compounds was found active against any of the DNA or RNA viruses at 100 μM.
Keywords :

1,3-Thiazole, cyclohexylidenehydrazide, antiviral activity