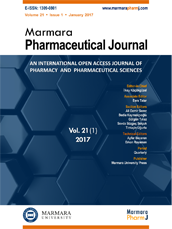 Editor-in-Chief
Hatice Kübra Elçioğlu
Vice Editors
Levent Kabasakal
Esra Tatar
Online ISSN
2630-6344
Publisher
Marmara University
Frequency
Bimonthly (Six issues / year)
Abbreviation
J.Res.Pharm.
Former Name
Marmara Pharmaceutical Journal
Marmara Pharmaceutical Journal
2016 , Vol 20 , Issue 1
Synthesis and cholinesterase inhibitory activity of some phenylacetamide derivatives bearing 1H-pyrazole or 1H-1,2,4-triazole
1Department of Pharmaceutical Chemistry, Faculty of Pharmacy, Ege University, Bornova, Izmir 35100, Turkey
DOI :

10.12991/mpj.2016202105828
A group of N-phenylacetamide derivatives bearing five membered heterocyclic rings, pyrazole or 1,2,4-triazole, were synthesized to investigate their cholinesterase inhibitory activities. Acetylcholinesterase (AChE) and butyrylcholinesterase (BuChE) inhibitory activities were evaluated by using Ellman"s spectroscopic method. Results indicated that all of the compounds displayed moderate and selective AChE inhibitory activity and the most active compound was 2-(1H-1,2,4-triazole-1-yl)-N-(3-methoxyphenyl)acetamide with an IC50 value of 6.68 mM. Docking studies were also carried out for the most active compound.
Keywords :

Alzheimer"s disease, pyrazole, 1,2,4-triazole, acetamide, cholinesterase inhibitory activity