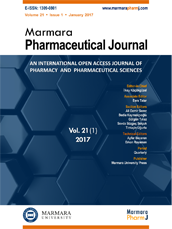 Editor-in-Chief
Hatice Kübra Elçioğlu
Vice Editors
Levent Kabasakal
Esra Tatar
Online ISSN
2630-6344
Publisher
Marmara University
Frequency
Bimonthly (Six issues / year)
Abbreviation
J.Res.Pharm.
Former Name
Marmara Pharmaceutical Journal
Marmara Pharmaceutical Journal
2016 , Vol 20 , Issue 1
Pyhtocosmetics in Pharmacy
1Yakacık Yeni Mah. Özyurt Sokak 11/3 Kartal İstanbul
2Marmara Üniversitesi Eczacılık Fakültesi Farmakognozi Anabilim Dalı 34668 Haydarpaşa İstanbul
DOI :

10.12991/mpj.201620774965
The increased desire among individuals to live a comfortable life, to be healthy, beautiful and groomy with developing world order; allows cosmetics and dermocosmetics industry to rapidly develop and increases the demand for their use. In recent years, increased interest among people to natural products instead of synthetic chemicals in every issue, especially to herbal forms, led to an increase of phytocosmetics within the cosmetics sector. The plants, plant oils and extracts practiced with simple methods to stay young and become beautiful for centuries, have begun to take part in phytocosmetics products nowadays. As they are being preferred, their number and varities are increasing each day. Although not many scientific research is available regarding phytocosmetics products and most preferred plants in the industry, day by day increasing demand to these products attracts researchers" attention and directs them to research more on the issue. In our research, to contribute the areas of cosmetics, dermocosmetics and phytocosmetics; we aimed to identify the phytocosmetic products and plants within the composition of these products, present in the pharmacies of the Anatolian side of Istanbul. According to our research, ten most widely used plants are identified as; Butyrospermum parkii (118), Vitis vinifera (106), Helianthus annuus (103), Olea europaea (91), Glycine max (82), Rosmarinus officinalis (80), Simmondsia chinensis (76), Citrus aurantium var. dulcis (Citrus sinensis) (75), Aloe barbadensis (69), Citrus medica var. limonum (68).
Keywords :

Cosmetic, Dermocosmetic, Phytocosmetic, Plant, Pharmacy