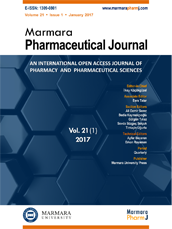 Editor-in-Chief
Hatice Kübra Elçioğlu
Vice Editors
Levent Kabasakal
Esra Tatar
Online ISSN
2630-6344
Publisher
Marmara University
Frequency
Bimonthly (Six issues / year)
Abbreviation
J.Res.Pharm.
Former Name
Marmara Pharmaceutical Journal
Marmara Pharmaceutical Journal
2016 , Vol 20 , Issue 1
Transdermal delivery of ethosomes as a novel vesicular carrier for paroxetine hydrochloride: In vitro evaluation and In vivo study
1Department of Pharmaceutics, Government College of Pharmacy, Aurangabad, India
2Department of Pharmacology, M.E.S. College of Pharmacy, Sonai, Ahmednagar, India
DOI :

10.12991/mpj.201620113534
The aim of the present work was to develop and characterisation of stable ethosomal formulation as a carrier for transdermal delivery of paroxetine hydrochloride. To prepare this ethosome, different concentrations of soya lecithin and ethanol were taken. Vesicular size, polydispersity index, zeta potential, entrapment effiency were determined by photon correlation spectroscopy and ultracentrifugation techniques. The in vitro permeation study across human cadaver skin was done. Stability study was done on optimised F2 formulation. The vesicle size decreases as an increase in the concentration of ethanol. Entrapment efficiency increases with the increase in concentration of soya lecithin. The ethosome exhibit entrapment efficiency of 40- 64%. In vitro permeation study across human skin ethosome F2 formulation showed higher transdermal flux 29.64% μg/cm2/hr. The release mechanism of in vitro permeation shows zero order drug release from the formulation. In vivo pharmacodyanamic study F2 formulation showed significant immobility as compared to control group. Stability study results revealed no significant change found in vesicle size distribution and polydispersity index. Our result indicates that the developed ethosomal system may be potential and safe for the delivery of paroxetine hydrochloride through skin.
Keywords :

Ethosome, Transdermal, Paroxetine hydrochloride, Soya lecithin, Cholesterol