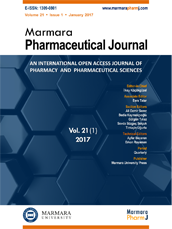 Editor-in-Chief
Hatice Kübra Elçioğlu
Vice Editors
Levent Kabasakal
Esra Tatar
Online ISSN
2630-6344
Publisher
Marmara University
Frequency
Bimonthly (Six issues / year)
Abbreviation
J.Res.Pharm.
Former Name
Marmara Pharmaceutical Journal
Marmara Pharmaceutical Journal
2015 , Vol 19 , Issue 3
Toxic Effects of Xenobiotics on DNA and Toxicogenetics
1Ankara Üniversitesi, Adli Bilimler Enstitüsü, Dikimevi, Ankara
2Adli Bilimler Enstitüsü, Ankara Üniversitesi Tıp Fakültesi Cebeci Yerleşkesi, 06590, Dikimevi, Ankara
DOI :

10.12991/mpj.20151927137
Nutrition, drugs, environmental and industrial xenobiotics and various substances have a toxic effect on DNA, cause mutations and have teratogenic effects. The response against these mutagens can be different between individuals due to the genetic polymorphisms. The studies examining the effects of toxic agents on DNA are reffered to as "genetic toxicology" and the studies examining the effects of variations in DNA on the toxicokinetics and toxicodynamics of toxic agents are referred to as "toxicogenetics". Toxicogenetic researches have been increased after, especially the Human Genome Project, it has been reported that these individual differences are related to traits that are inherited genetically. Nowadays, genetic toxicology and toxicogenetic become important scientific fields. So, carcinogen xenobiotics which affect DNA and cause to changes on DNA were mentioned as a field of genetic toxicology and toxicogenetic researches which mainly have been done on Turkish population was mentioned in present review.
Keywords :

Toxicogenetics; genetic toxicology; toxic agent; mu