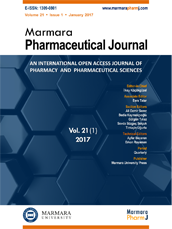 Editor-in-Chief
Hatice Kübra Elçioğlu
Vice Editors
Levent Kabasakal
Esra Tatar
Online ISSN
2630-6344
Publisher
Marmara University
Frequency
Bimonthly (Six issues / year)
Abbreviation
J.Res.Pharm.
Former Name
Marmara Pharmaceutical Journal
Marmara Pharmaceutical Journal
2015 , Vol 19 , Issue 3
Quantitative Determination of The Heavy Metals (Lead, Zinc And Manganese) in White Cheese Produced in Ergene Basin by Using Atomic Absorption Spectrophotometry
1Department of Analytical Chemistry Faculty of Pharmacy University of Marmara 34668 Haydarpasa,Uskudar,Istanbul, TURKEY
2Istanbul Kadıkoy Lisesi Hacı Izzet Sokak No. 7, 34710 Moda, Kadıkoy,Istanbul,TURKEY
DOI :

10.12991/mpj.20151974681
It is well known that heavy metals are harmful for human health appearing only after exceeding the specific concentrations of each metal. This study was carried out to determine the concentrations of heavy metals in cheese that was produced in diaries of Ergene Basin.

The dairies near the Ergene River were investigated and suitable ones were selected. Since the sampling process directly affects the sensitivity of the results, particular attention was given to this process. A total of twelve samples of cheese were collected from different diaries and each samples were digested three times by dry ashing and wet ashing methods and totally 108 cheese samples were obtained for metal analyses. The lead, manganese content of the cheese samples were measured by graphite furnace atomic absorption spectrophotometer and zinc content of the cheese samples were measured by flame atomic absorption spectrophotometer.

Contents of heavy metals in the examined samples were compared with the excepted limit values in the literature and the results were evaluated. Experimental data shows that the concentrations of heavy metals are in the range of accepted limit values.
Keywords :

Cheese, Ergene basin, Atomic absorption spectrophotometry, Heavy metals