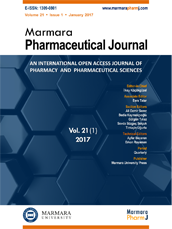 Editor-in-Chief
Hatice Kübra Elçioğlu
Vice Editors
Levent Kabasakal
Esra Tatar
Online ISSN
2630-6344
Publisher
Marmara University
Frequency
Bimonthly (Six issues / year)
Abbreviation
J.Res.Pharm.
Former Name
Marmara Pharmaceutical Journal
Marmara Pharmaceutical Journal
2015 , Vol 19 , Issue 2
Factors Affecting Professional Preferences of First Year Students at Ege University"s Faculty of Pharmacy
1Ege Üniversitesi, Eczacılık Fakültesi, Eczacılık İşletmeciliği Anabilim Dalı, İzmir, Türkiye
DOI :

10.12991/mpj.20151910463
It is known that various social and economic factors including employment opportunity, ability, interest, values, personality characteristics, family requests are effective today in choice of profession. It was seen major changes both in working conditions and education of the pharmacy profession because newly legal regulations in pharmaceutical field.

It has gained importance to determine preferring causes for pharmacy faculties of freshmen; whether they are aware of new pharmaceutical legislation in preference stage; expectations from profession; whether new pharmaceutical legislation caused changes in qualifications and profile of students beside all changes.

It is a cross-sectional, descriptive study. 12-question survey on socio-demographic characteristics of freshmen in Ege University, Pharmacy Faculty in 2014-2015, preferring causes for pharmacy faculty and thoughts on future of profession applied 102 students voluntarily and with self-reporting. Data are evaluated in 95% statistical confidence interval by frequency, percentage, chi-square tests using SPSS18 software package.

It was understood that new legal regulations in pharmaceutical field caused decreases in base points for well-established pharmacy faculties in our country. In the study, there was no statistically significant relationship between gender of students and vocational area preferences after graduation (p>0.05).

Moreover; while community pharmacy was preferred over 60% before amendment, students who plan working as community pharmacy decreased to 32.4%. However, it is determined that vocational tendency has became to shift clinical pharmacy (21.6%), industrial pharmacy (8.8%), academic pharmacy (10.8%). It is considered that future of profession would depend realization of employment-enhancing policies in areas had intense interest.
Keywords :

Pharmacy, Pharmacy Education, Pharmacy Students, Career Choice