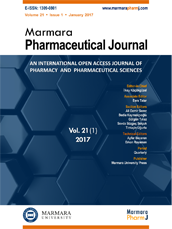 Editor-in-Chief
Hatice Kübra Elçioğlu
Vice Editors
Levent Kabasakal
Esra Tatar
Online ISSN
2630-6344
Publisher
Marmara University
Frequency
Bimonthly (Six issues / year)
Abbreviation
J.Res.Pharm.
Former Name
Marmara Pharmaceutical Journal
Marmara Pharmaceutical Journal
2015 , Vol 19 , Issue 2
Investigation of Molluscan Indigoid Dyes-Metal Interaction with Spectrophotometric Method
1Marmara University, School of Pharmacy, Department of Analytical Chemistry, Haydarpaşa 34668 İstanbul, Turkey
DOI :

10.12991/mpj.2015199642
Synthetic dyes are widely used in textile, food, pharmaceutical and cosmetic industries and they have an important place in our daily lives. In recent years toxic effects of synthetic dyes on environment and human health have been reported and natural dyes have been proposed as an alternative colorants.

Indirubin, 6-bromo indirubin, 6"-bromo indirubin, 6,6"-dibromo indirubin, indigotin, 6-bromo indigotin and 6,6"-dibromo indigotin are molluscan dyes. These dyes are the first known colorants in history and they have been used in many traditional medical prescription. Recently their new analogues have been tested in treatment of cancer, diabetes and Alzheimer"s diseases.

Mordanting process is very important in dyeing procedure. The interaction between mordant metal and dye is the most significant factor which is effecting the quality of the color. In this study we investigate the interaction of molluscan indigoid dyes with Al (III) and Sn (II) metals by spectrophotometric method.
Keywords :

Indigo, Natural dye, Tin (II), Aluminium (III), UV-VIS spectrophotometry