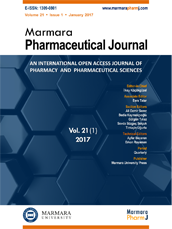 Editor-in-Chief
Hatice Kübra Elçioğlu
Vice Editors
Levent Kabasakal
Esra Tatar
Online ISSN
2630-6344
Publisher
Marmara University
Frequency
Bimonthly (Six issues / year)
Abbreviation
J.Res.Pharm.
Former Name
Marmara Pharmaceutical Journal
Marmara Pharmaceutical Journal
2015 , Vol 19 , Issue 2
Derivatization of Some Maleic Anhydride Containing Copolymers with Amine Functionalized Pharmaceutical Active Substances, Structural Characterizations and Biological Activities
1Cumhuriyet Üniversitesi, Eczacılık Fakültesi, Farmasötik Kimya Anabilim Dalı, Sivas 58140, Türkiye
DOI :

10.12991/mpj.20151910458
Poly(maleic anhydride-co-styrene) (MAST), poly(maleic anhydride-co-vinyl acetate) (MAVA), poly(maleic anhydride-co-methyl methacrylate) (MAMMA), poly(maleic anhydride-co-allyl phenyl ether) (MAAFE) and poly(maleic anhydride-alt-acrylic acid) (MAAA) copolymers were synthesized by free radical chain polymerization reaction. Modification/derivatization of the copolymers with active pharmaceutical ingredients, in amine form (-NH2), was performed by the ring opening reaction. Structural characterization of the copolymers and the conjugated products was carried out by Fourier Transform Infrared (FTIR) and Nuclear Magnetic Resonance (1H-NMR). The FTIR and 1H-NMR spectra, confirmed that pharmaceutically active agents were covalently bonded to the MAVA copolymer in a succesfull manner. Furthermore cytotoxicity on healthy fibroblast cell lines, antiproliferative activity on cancer cell lines and antibacterial activity on bacterial strains were also investigated in-vitro for synthesized conjugates. MAVA copolymer was also selected the most suitable carrier for modification/derivaritization process by comparing its affinity to the pharmaceutically active agents.
Keywords :

Copolymer modification, ring opening reaction, antiproliferative activity, antibacterial activity, structural characterization