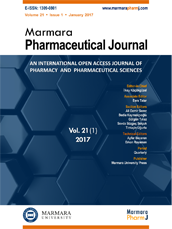 Editor-in-Chief
Hatice Kübra Elçioğlu
Vice Editors
Levent Kabasakal
Esra Tatar
Online ISSN
2630-6344
Publisher
Marmara University
Frequency
Bimonthly (Six issues / year)
Abbreviation
J.Res.Pharm.
Former Name
Marmara Pharmaceutical Journal
Marmara Pharmaceutical Journal
2014 , Vol 18 , Issue 3
Wound Healing and Oxidative Stress
1Marmara Üniversitesi, Eczacılık Fakültesi, Biyokimya Anabilim Dalı
DOI :

10.12991/mpj.2014187243
Reactive oxygen species (ROS) are produced by almost aerobic organisms as a result of normal cellular metabolic pathways and environmental factors such as trauma, infection, reperfusion and inflammation. These radicals are molecules containing one or more unpaired electrons and due to the high chemical activity they cause cellular damage. In recent years, it has been demonstrated in many studies that oxidative stress play a role both in the defense system and wound healing. On the other hand, the mechanism of ROS which has a central role in wound healing is not fully elucidated. Therefore, formation of ROS and detoxification of these products are very importance in wound healing. This also will provide to contribute to the development of new methods for treatment. In this study, different antioxidants which have a role in wound healing and detoxifying enzyme of ROS will be described.
Keywords :

Antioxidant, oxidative stress, reactive oxygen species, wound healing