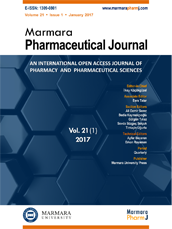 Editor-in-Chief
Hatice Kübra Elçioğlu
Vice Editors
Levent Kabasakal
Esra Tatar
Online ISSN
2630-6344
Publisher
Marmara University
Frequency
Bimonthly (Six issues / year)
Abbreviation
J.Res.Pharm.
Former Name
Marmara Pharmaceutical Journal
Marmara Pharmaceutical Journal
2013 , Vol 17 , Issue 1
The effect of betulinic acid on TNBS-induced experimental colitis
1Marmara University Medical Student, Istanbul, Türkiye
2Marmara University School of Pharmacy, Department of Pharmacology, Istanbul, Türkiye
3Marmara University School of Medicine, Department of Hematology & Immunology, Istanbul, Türkiye
4Marmara University, Vocational School of Health Related Professions, Istanbul, Türkiye
5Marmara University School of Medicine, Department of Histology & Embryology, Istanbul, Türkiye
6Marmara University School of Medicine, Department of Physiology, Istanbul,Türkiye
DOI :

10.12991/201317393
In this study we have investigated the possible protective effect of betulinic acid (BA) on colonic inflammation in rats. Colitis was induced in Sprague-Dawley rats of both sexes by intracolonic administration of 1 ml trinitrobenzene sulphonic acid (TNBS). Colitisinduced rats received orogastrically either betulinic acid (50 mg/kg/day) or vehicle (0.05% DMSO) for 3 days. At the 72nd hour of colitis induction, the rats were decapitated and trunk blood was collected for the measurement of TNF-α, IL-1Β, lactate dehydrogenase (LDH) levels and total antioxidant capacity (AOC). The distal 8 cm of colon were scored macroscopically, and the degree of oxidant damage was evaluated by malondialdehyde (MDA) and glutathione (GSH) levels, myeloperoxidase activity (MPO), collagen content and by histological analysis. Generation of oxidants was evaluated by tissue luminol and lucigenin chemiluminescences (CL). Colitis caused significant increases in the colonic CL values, macroscopic damage scores, MDA, MPO and collagen levels, along with a significant decrease in tissue GSH level. Similarly, serum TNF-α, IL-1Β, as well as LDH were elevated and AOC was reduced in the vehicle-treated colitis group as compared to control group. On the other hand, betulinic acid treatment reversed all these biochemical indices, as well as histopathological alterations induced by TNBS, suggesting that betulinic acid protects the colonic tissue via its radical scavenging and antioxidant activities.
Keywords :

betulinic acid; colitis; oxidative damage; inflammation; trinitrobenzene sulphonic acid