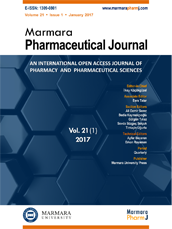 Editor-in-Chief
Hatice Kübra Elçioğlu
Vice Editors
Levent Kabasakal
Esra Tatar
Online ISSN
2630-6344
Publisher
Marmara University
Frequency
Bimonthly (Six issues / year)
Abbreviation
J.Res.Pharm.
Former Name
Marmara Pharmaceutical Journal
Marmara Pharmaceutical Journal
2013 , Vol 17 , Issue 1
Ethnobotanical studies in the Maldan Village (Province Manisa, Turkey)
1Manisa İl Milli Eğitim Müdürlüğü, Bilim ve Sanat Merkezi, Biyoloji, Manisa, Türkiye
2Celal Bayar Üniversitesi, Fen Edebiyat Fakültesi, Biyoloji Bölümü, Botanik, Manisa, Türkiye
DOI :

10.12991/201317388
Village of Maldan (400 m) lies in the north of Manisa on the Yunt Mountain (1075 m). According to Davis' Grid system the area is in the B1 square. In this study plants were collected from Maldan (Manisa) village between 2002–2003 years. At the end of flora studies 468 taxa belonging 70 families and 276 genera were identified. Ethnobotanical surveys were made in the same village. The researchers interviewed people in village. A total of 77 different usages of wild plants were recorded in the study area. Out of 468 plant taxa commonly present, 68 plant taxa (14,5%) are used for medicinal, foodstuff, fodder, dye and miscellaneous purposes. Most used families were Asteraceae, Lamiaceae, Rosaceae, Brassicaceae and Apiaceae. These plants are mainly used against for the stomach and digestive disorders (24,6 %), as food (10,4 %), for preventing cancer (10,4 %), against the skin diseases and injurie (7,8 %).
Keywords :

Ethnobotany, Maldan, Manisa, Turkey