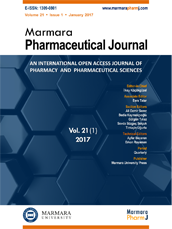 Editor-in-Chief
Hatice Kübra Elçioğlu
Vice Editors
Levent Kabasakal
Esra Tatar
Online ISSN
2630-6344
Publisher
Marmara University
Frequency
Bimonthly (Six issues / year)
Abbreviation
J.Res.Pharm.
Former Name
Marmara Pharmaceutical Journal
Marmara Pharmaceutical Journal
2013 , Vol 17 , Issue 1
Antimicrobial and cytotoxic activities of Tripleurospermum parviflorum (Willd.) Pobed
1Ege Üniversitesi Eczacılık Fakültesi, Farmakognozi Anabilim Dalı, İzmir, Türkiye
2Celal Bayar Üniversitesi Fen Edebiyat Fakültesi, Biyoloji Bölümü Mikrobiyoloji Anabilim Dalı, Manisa, Türkiye
DOI :

10.12991/201317386
The antimicrobial and cytotoxic activities of n-hexane, methanol, ethanol, ethyl acetate and water extracts of Tripleurospermum parviflorum (Willd.) Pobed. were evaluated in this study. The antimicrobial activities of the extracts were reported against Escherichia coli ATCC 29998, Escherichia coli ATCC 25922, Escherichia coli ATCC 11230, Staphylococcus aureus ATCC 6538P, Staphylococcus aureus ATCC 29213, Enterobacter cloacae ATCC 13047, Enterococcus faecalis ATCC 29212, Pseudomonas aeroginosa ATCC 27853 as bacteria and Candida albicans ATCC 10239 as yeastlike fungi by disc diffusion method. Cytotoxic activity of the extracts was tested in vitro against Brine shrimp. All of the extracts showed a range of activity against the tested bacteria and brine shrimp.
Keywords :

Tripleurospermum parviflorum, Asteraceae, cytotoxic activity, antimicrobial activity