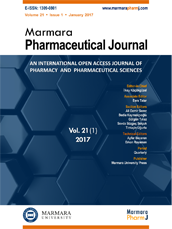 Editor-in-Chief
Hatice Kübra Elçioğlu
Vice Editors
Levent Kabasakal
Esra Tatar
Online ISSN
2630-6344
Publisher
Marmara University
Frequency
Bimonthly (Six issues / year)
Abbreviation
J.Res.Pharm.
Former Name
Marmara Pharmaceutical Journal
Marmara Pharmaceutical Journal
2012 , Vol 16 , Issue 3
Melatonin protects against acrylamideinduced oxidative tissue damage in rats
1Marmara University, Faculty of Pharmacy, Department of Pharmaceutical Toxicology, İstanbul, Turkey
2Marmara University, Faculty of Pharmacy, Department of Pharmacology, İstanbul, Turkey
3Marmara University, Faculty of Medicine, Department of Hematology-Immunology, İstanbul, Turkey
DOI :

10.12991/201216401
Acrylamide (ACR), is a widely used industrial chemical which induces oxidative stress in the body. In this study we aimed to investigate the possible protective effect of melatonin (MEL), as an antioxidant agent, against experimental ACR toxicity in the liver and kidney of the rats. Wistar albino rats of either sex 200-250 g were divided into four groups each consisting of 6 animals. Rats received for 10 days; 1) 0.9% NaCl i.p.; control (C) group; 2) MEL in a dose of 10 mg/kg i.p., 3) ACR in a dose of 40 mg/kg i.p. (dissolved in 0.9% NaCl) (ACR group) and 4) MEL (in a dose of 10 mg/kg i.p.) and ACR (in a dose of 40 mg/kg i.p.). After decapitation, liver and kidney tissues were excised. Malondialdehyde (MDA), glutathione (GSH) levels, collagen contents and myeloperoxidase activity (MPO) were determined in the tissues, while enzyme activities and cytokine levels were assayed in blood samples. In the ACR treated group, GSH levels decreased significantly while the MDA levels, MPO activity and collagen content increased in the tissues suggesting oxidative organ damage. In the MEL treated ACR group, all of these oxidant responses were reversed significantly. Serum enzyme activities, cytokine levels and leukocyte apoptosis which increased significantly following ACR administration, decreased with MEL treatment. The results demonstrate the role of oxidative mechanisms in ACR-induced tissue damage, and melatonin, by its antioxidant properties, ameliorates oxidative organ injury due to acrylamide toxicity.
Keywords :

Acrylamide, melatonin, lipid peroxidation, glutathione, myeloperoxidase