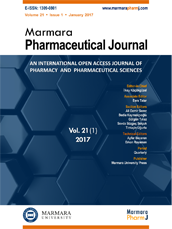 Editor-in-Chief
Hatice Kübra Elçioğlu
Vice Editors
Levent Kabasakal
Esra Tatar
Online ISSN
2630-6344
Publisher
Marmara University
Frequency
Bimonthly (Six issues / year)
Abbreviation
J.Res.Pharm.
Former Name
Marmara Pharmaceutical Journal
Marmara Pharmaceutical Journal
2010 , Vol 14 , Issue 3
Hormone of darkness: Melatonin
Marmara Üniversitesi, Farmakoloji, İstanbul, Türkiye
DOI :

10.12991/201014445
The hormone melatonin (5-methoxy-N-acetyltryptamine) is synthesized primarily in the pineal gland and retina, and in several peripheral tissues and organs. The endogenous rhythm of secretion is generated by the suprachiasmatic nuclei and entr ained by the light and dark cycle. It helps regulate other hormones and maintains the body's circadian rhythm. Melatonin is ubiquitously distributed and because of its small size and amphiphilic nature it is able to reach easily all cellular and subcellular compartments. It is a natural occurring compound with well-known antioxidant properties and has been proven as a powerful cytostatic drug in vitro as well as in vivo. The efficacy of melatonin has been assessed as a treatment of ocular diseases, blood diseases, gastrointestinal tract diseases, cardiovascular diseases, diabetes, rheumatoid arthritis, fibromyalgia, chronic fatigue syndrome, infectious diseases, neurological diseases, sleep disturbances, aging and depression. This review summarizes the pharmacokinetic properties and physiologic and pharmacological effects of melatonin.
Keywords :

melatonin, antioxidant