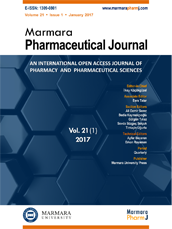 Editor-in-Chief
Hatice Kübra Elçioğlu
Vice Editors
Levent Kabasakal
Esra Tatar
Online ISSN
2630-6344
Publisher
Marmara University
Frequency
Bimonthly (Six issues / year)
Abbreviation
J.Res.Pharm.
Former Name
Marmara Pharmaceutical Journal
Marmara Pharmaceutical Journal
1996 , Vol 12 , Issue 1
Determination of α-amanitin in serum by HPLC in cases of mushroom poisoning
In Turkey, mushroom poisoning is especially seen in spring and autumn may even result in death. The main reasons for poisoning with mushrooms are their widespread usage as food and the inexperience of the gatherers in distinguishing the edibles from the poisonous.The diagnosis should be made as quickly as possible to start immediate treatment. Amanita phalloides and A.verna are the most dangerous species which give rise to fatal poisoning. α- Amanitin is the main compound responsible for poisoning in Phalloides syndrome. Its determination in serum is highly helpful to the diagnosis. We have therefore investigated various HPLC methods for the determination of α- amanitin in serum and developed a rapid and sensitive methods which can be applied to routine analysis. According to this method, 2 μg/ml of α- amanitin in serum can be detected.
Keywords :

mushroom poisoning, Phalloides syndrome, Amanita phalloides, α- amanitin, HPLC