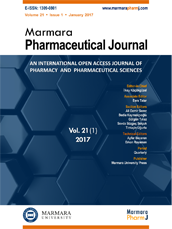 Editor-in-Chief
Hatice Kübra Elçioğlu
Vice Editors
Levent Kabasakal
Esra Tatar
Online ISSN
2630-6344
Publisher
Marmara University
Frequency
Bimonthly (Six issues / year)
Abbreviation
J.Res.Pharm.
Former Name
Marmara Pharmaceutical Journal
Journal of Research in Pharmacy
2023 , Vol 27 , Issue 3
Precisive Colon Cancer Treatment: Exploring Novel Avenues Of Cancer Treatment Through Multistage Nanocarriers
1Department of Pharmaceutics, JSS College of Pharmacy, JSS Academy of Higher Education & Research, Ooty, The Nilgiris, Tamil Nadu, India
2Centre of Excellence in Nanoscience & Technology, JSS College of Pharmacy, JSS Academy of Higher Education & Research, Ooty, The Nilgiris, Tamil Nadu, India
DOI :

10.29228/jrp.402
Promising therapy is requisite for the treatment of colon cancer to overcome the current treatment regimen and limitations associated with its adverse effects. Conventional chemotherapeutic drugs administered in the treatment constitute low solubility of anticancer drugs and lack of specificity, leading to serious side effects due to the nonspecific uptake of drugs by normal healthy cells. Additionally, surgery and radiotherapy involved in the treatment have not shown remarkable progress due to their cost effect and laborious process. Nanocarriers are being designed to overcome the limitations of drugs administered by the conventional route. They do not degrade in the gastrointestinal tract before reaching the colonic site and enhance their Enhanced permeation and retention (EPR) effect. This review emphasizes various nanoparticles and their surface-modified ligands help in the pathogenesis of colon cancer, how nanoparticles-mediated drug delivery system differentiate from conventional treatment and their various advantages in the prevention, diagnosis, and treatment of colon cancer. By utilizing various nano-formulation using various strategies employed in nanoparticles mediated drug delivery systems and enlists the mechanistic outcomes of nano-formulated drugs, targeting of the drug through active and passive mechanisms and their preclinical and in vivo experimental works and overcoming conventional treatments. We have made a wide review of various nanoparticle designs and aim to reveal possible mechanisms by targeting specific ligands such that cellular uptake, improved bioavailability, and pharmacokinetics could be enhanced. This information will be helpful in the expansion of these nanocarriers and aid in drug delivery treatment of colon cancer.
Keywords :

Chemotherapy drugs; Colon cancer; Nanocarriers; Drug delivery; Multidrug resistance; EPR effect